Thursday
School
Bought plane ticket for PWOC conference (I have to go up earlier than our ladies, but will drive back with them)
Piano Lessons
Play Date with Friends
More co-op stuff (United and Produce)
Shopping
VP Debate (YES, we watched! LOL)
Mailed check to DA Chap Fund for our ladies to attend PWOC International Conference
Day 2 of Stacia in panties - still no accidents
Friday
Produce Co-op
Shopping
Jared's HOME! We're enjoying the stories. The house has seemed so quiet. I should explain. It's always NOISY but Jared is an extrovert. He's always up for long discussions. He rallies the littles in games and such. Things have been quiet this week.
Day 3 of Stacia in panties. She did have a small accident this afternoon but it was because I had pants on her. She LOVES dresses and the pants certainly slowed her down. LOL
Here are some photos of Jared at camp.... He's the one with his mouth wide open!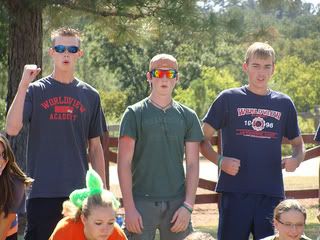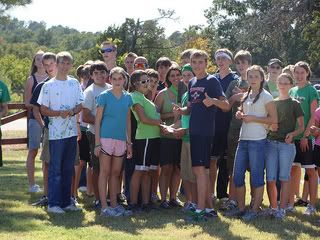 Here are some photos of Jared's homecoming! Stacia HAD to tell him her new trick! I decided the pants can wait. LOL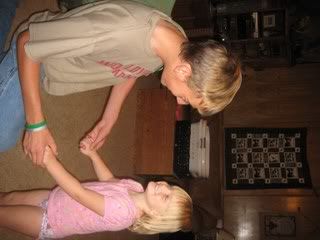 Zander was glad to see Jared. He said, "You mean you are going to live with us again?" I felt terrible. He'd made several comments this week about "Bre, Krista, Josiah and Jared" growing up and leaving....and I kept telling him that growing up is normal, that they are still a part of the family but I didn't CATCH that he thought JARED had moved out of the house permanently. ::sigh:: Jamin did spring cleaning in their room etc. NOW - I understand the horrendous week that began on Sunday. I try to anticipate "changes" for Zander...but this one caught me by surprise. I need to start getting him ready for May and Jamin possibly staying here in TX when we move on.
©2008 D.R.G.