Gems of the Day
Stacia with her play phone is overheard having a very serious conversation: "I am Stacia. You are sista (Krista) and Bre. I love you, you are my sisters. Goodbye."
Later in the day at Chick Fil A (where the younger 5 and I went to see the older boys LOL)....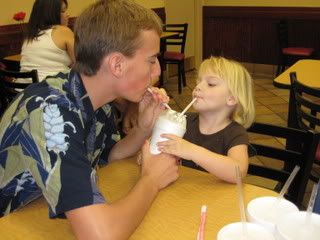 Stacia was full of vim. "Hi JAY!!" She earned a smile. She could top that.
She ran to the swinging door that seperates the employees from the consumers, leaned in and shouted, "Cyyyyy, I LUF you! I LUF YOU CY!" Oh my - she got smiles and laughs from other consumers and a big smile from Cy.
As we left, now obviously playing to the whole crowd, she turned and yelled back, "Cy we sure do LUF you!" ::snort::
Latebreaking gem.....Mike arrived home from the office, played with Stacia and said, "Can I talk with Mom a little bit now?" Stacia replied, "No, you're talkin with me!" ::snort::