Jamin's Day
Today was Jamin's turn to hit the stores. LOL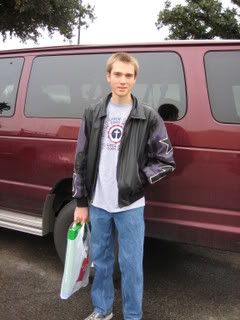 I love the way this one shops. He got into the van, pulled out a list of everyone he needed to buy for, and had stores and items listed that he planned to purchase. We went to the stores, he bought what he wanted, we ran errands, went grocery shopping and had lunch.
Jamin chose Double Dave's. The salad bar is pretty good. Certainly better than Wendy's Southwest but not quite as good as McDonald's Southwest with lime instead of dressing. ::snort::
We have been busy wrapping gifts each day. The tree is starting to look embarassingly full again. A big box from Home Science Tools arrived...It contained Nolan's main gift and lots of stocking stuffers.
I spent a bit of time online trying to track down hard to find gift requests. Arielle wants books that I'm not sure have been written. Mike would like season's from a series that I don't think have been released. Jamin wants tons of ancient war/weapon, clothing books for his research.
I PAID BILLS! This is big - I didn't forget until 1 Jan. LOL