I doubt that I can do justice to our trip - but photos will go along way. By the time we left Japan, I knew that my life was about to make some big changes in Hawaii. I was hit with NERVES big time and Windy had to pray me out the door and on to the plane. Poor thing, she must have wondered what sort of psycho she was traveling with. ::snort::
Here we are - looking refreshed and excited to begin our really BIG ADVENTURE - bigger than our night out at the library! ::snort:: BTW - that's me on the left.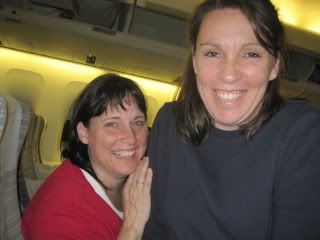 Two plane trips, one bus ride and a day later we were well welcomed in Honolulu.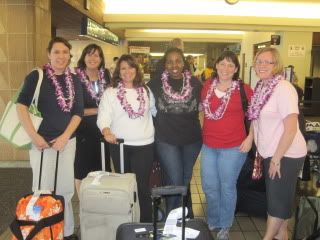 Windy and I shared a room. Here's the view from our room.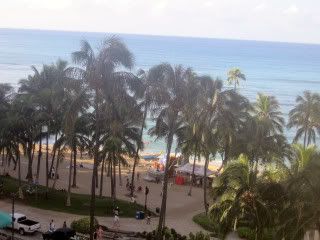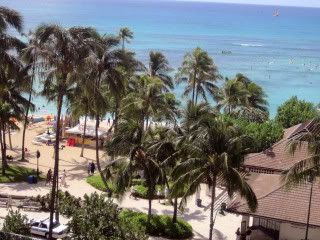 Our group - and the brunette behind us on the left is from our first assignment. A highlight for me was seeing Julie and Sarah (both from Malmstrom AFB) again.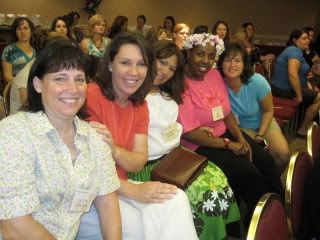 Sunday Morning, Brenda Marlin, PWOCI President, prayed for the next generation of women.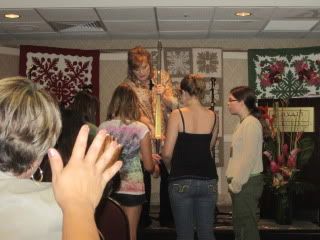 After the conference our group went out on a Catamaran. This couple touched a deep chord in me.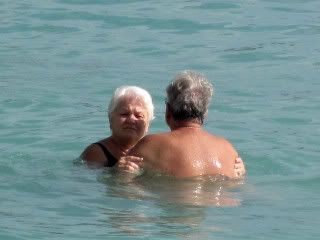 Ah - sailing....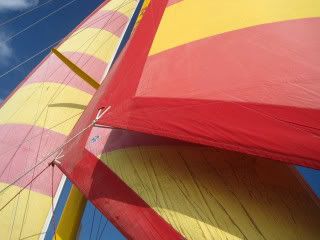 Windy enjoys the ride....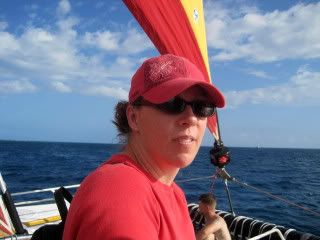 and then....I got "violently ill"! Really. I threw up seven times on the Catamaran. The conference had concluded on a high point for me (and I'll blog that later), and this was a low point! ::snort:: I told God if he really loved me, He'd calm the waves like He did for the disciples...but He didn't.....Windy got ill too. Susane felt ill but held it together. I wasn't sure I'd make it back to the hotel when we landed. I figured God was helping me face my fear of motion sickness....afterall it can't get much more humiliating than what I went through on this trip. I'll spare you lots of the details. I was thankful that He was showing me that I could handle the worse and not fear flying and motion sickness. We made it back to the hotel. I slept. Everyone slept. We got up and went in search of a baked potatoe. I got sick again.
We got up early to fly back to Japan....I was sick. I got sick a couple of times before boarding the plane....slept most the way home....Susane had to go to the hospital in Hawaii. We chatted yesterday and I discovered that six women from Hickam and she and I seem to have contacted some sort of food poisioning...so it wasn't all motion sickness.
It really was a great trip. My traveling companions were precious. The time away was about right. I was able to see old friends.....the very ladies who introduced me to PWOC. There will be lots more photos as they are sent to me...but these give you the idea.
I'll have more to say in the next day or so. I need time to write it well. LOL If a picture is worth a thousand words, THIS one is worth a few million.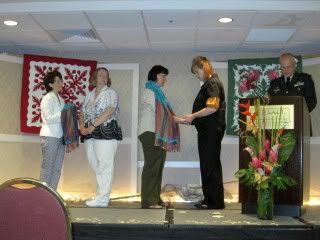 For those who recognize some of the ladies, yes, I'm the new PWOC Asia Region President...and I'm more humbled and more exhilerated than I can remember being in a very long time.


Time to run....Prot News is done and I'd like to get home to my babies.
Choosing Joy!
©2009 D.R.G.
~ Coram Deo ~
Living all of life before the face of God...