The most shocking discovery of the day was that someone had gone into my My Space and changed the photo, added photos, and changed the background to bright pink and BARBIE!!!! Yes, that someone is one of my beloved children. They taught me a lesson about internet security. I'm used to blogger and such. When I close a window - I'm logged off. Evidently on Myspace....when you close a window you are still logged on unless you have signed off....so someone just went to HER myspace and found my space there - and couldn't resist. WELL....the culprit then had to give me a nice new background. ::snort:: And....I'll remember to sign off from here on out.
While I was taking care of the grevious attack on my identity, Mike finished reading Jamin's book.
Mike and I took the girls out to lunch. They'll be leaving shortly and we wanted time to chat with them. They'd never had Chick Fil A and knew they wanted a shake...the boys were working....so we went.
I sat in the mall and tried to take these without embarassing Jamin...but Tim O - the boss noticed me and made Cy wave at his mom...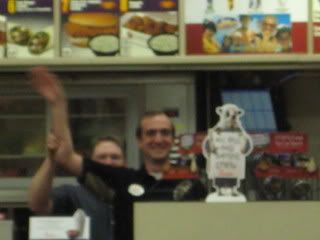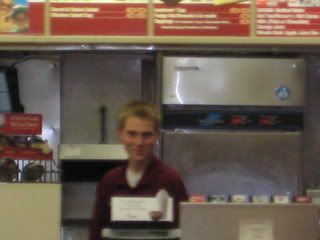 Jamin was forced to stand still so I could take a photo. Unfortunately, the little camera doesn't do well with focus when zoomed in to 12....ah well.
We've been debating family phone plans so stopped at Sprint to see what they have to offer. Verizon doesn't service our area but there is coverage here. Huh???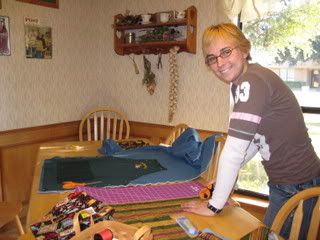 I should write a sepearte apron post but the pictures are here so I'll talk about it here. ::snort::I love my apron which I purchased from Bread Beckers. It's made of thick material. You can't tell from the photo but it is ADJUSTABLE...the ties are long and you pull them up or down to adjust how high up the front of the apron will be. This is important for me because most adult aprons like this have the top down at my waist...and the children's ones strangle me. The apron is $19.95. Krista said we could make one. On a trip to walmart we picked up what we thought we would need for 2 aprons. It turns out we'll get 4 aprons made.....at less than $4 a piece. Ours doesn't slide as well as theirs, but we know why and can do it differently on the other 3 if we want to. Ours also has the frayed look on the tie, but Krista tells me that fringe is coming back.....and I'm a trendsetter.
One down, three to go - Krista says she'll take this one home with her.
Arielle made oven friend chicken (with just a bit of help from Krista and I - we are a big group) for dinner.
We began a phase 10 game at 8:00 p.m. At 10:00 p.m. I opted to go watch a Jerry Lewis movie with Stacia and Krista. I fell asleep within 5 minutes. I think the game finally broke up at
midnight. I have no idea who won.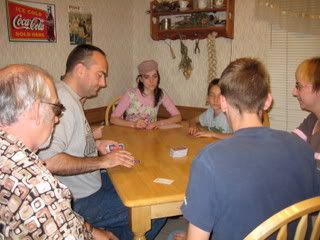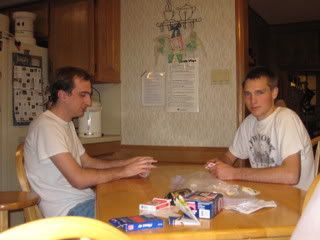 Josiah and Jamin got home and played some slapping game next to us.
Mom demonstrated why it takes her longer than Dad to read a book. ::snort::
I've lived in cultures where New Year's Day is incredibly important. It is felt that what you do the first day of the year will determine how your time is spent the rest of the year. We spent the day with family, played games, and ate nutritious food - that's a good start. LOL