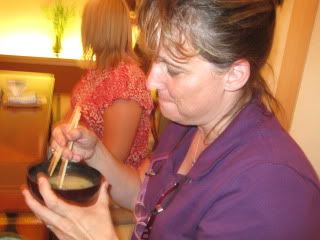 We began to study chopsticks
before
we arrived.

When we first arrived I thought I'd starve to death....and meals took much, much longer when we went out to eat.
I was given MANY lessons in how to use chopsticks...but just couldn't get the PROPER technique figured out. I eventually just worked out my own system.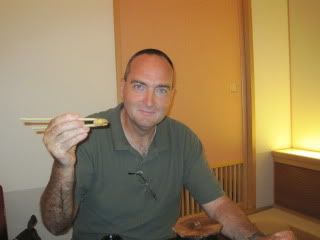 Michael didn't have this problem.
There are some foods that are simply BETTER eaten with chopsticks....Yakisoba and FRUIT SALAD come to mind. Nabbing those grapes with chopsticks is much easier than stabbing them with a fork. Dipping truffles in chocolate is a breeze when you hold the truffle with a chopstick.
Chopsticks are used for everything over here....
Even soup is easy to eat with chopsticks....scoop up the noodles and drink the broth from the bowl.
Choosing Joy!
©2013 D.R.G.
~Coram Deo~
Living all of life before the face of God...