BITTER - SWEET
Josiah is leaving on Sunday for Boston. He will return and move into an apartment a week later. Today he and I went shopping to find things for his apartment. He'd been telling folks he had a fridge, a futon, a tv, a table (last three items complements of our storage unit); all he needed was a microwave. We learned this wasn't true. He'll have another big shopping trip before he moves out.
Silverware - who cares if they match the spoons need to be BIG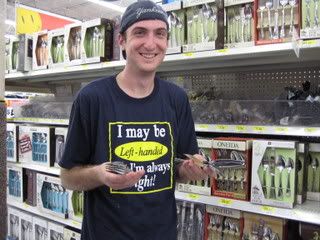 Plates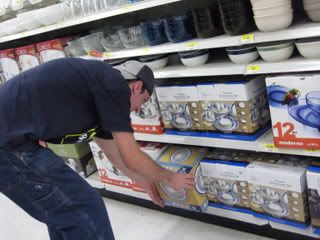 A microwave, blender and toaster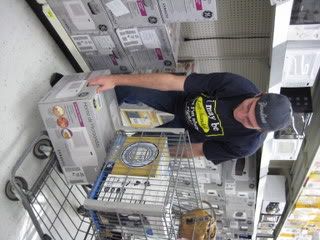 Oh yeah - he needs a vaccum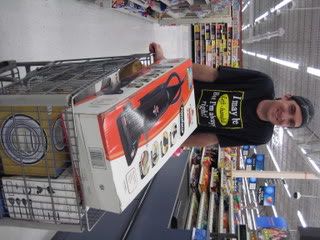 He spent a couple of hundred dollars...I figure I can
pawn off
give him a cast iron skillet, storage containers, pitcher, cookie sheet....but he'll do more shopping next payday.
We ended the excursion as this family marks any momentous occasion (girls leaving, 1st day of school, parents flying to Philippines); we went to DQ.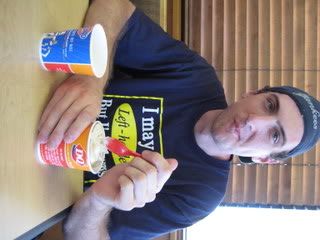 He's been clearing out his dresser, desk etc. Back at home we discovered that the silly string he threw away exploded in the alley.
Mommy note: Don't you think he's a great sport to allow me to follow him through walmart taking photos? It IS fun to help a child set up an apartment...much nicer that he's moving 1 mile instead of 2000 miles...and yet this means that in a year we'll be saying goodbye to him...and possibly Jamin (Please God give us an assignment Jamin thinks is cool - EUROPE)....I didn't cry at all or embarass myself while shopping....I am tearing up now....but I'm going to go swim before heading in to PWOC Project Night. ::snort::