COUNTDOWN....1 DAY until all the pieces of my heart unite in CO.....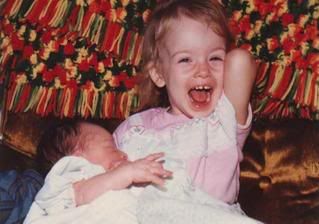 What can I say? I found this photo when I was taking the 1980's out of magnetic albums. This is the very first time that BreAnne saw Krista.
Mike didn't grow up with a brother. I had no sisters. When we met Krista (6-3-1987) we had such hopes and dreams of the relationship these two "sisters" would develop. That relationship has developed.
Honestly, Bre has embraced her role as big sister from this very moment.....and Krista has followed suite. They've been amazing big sisters for all the children.
I love the excitement on Bre's face. We've seen the same excitement in recent years when we drove up in Spokane,WA.....when she and Krista RAN across the flightline in San Angelo to get to their siblings....and in one more day we'll see that excitement in the mountains of CO.
If you think of it pray for the girls and for Mike, I and the younger 5 as we travel today. We'll be traveling again tomorrow...as will the older two boys.
Stephanie...we'll post that new circle of faces as soon as we find a connection after taking it. ::snort::
©2008 D.R.G.