We were able to go inside the house yesterday. I talked with our rental agent and they've moved the base's home inspection up to Friday, 25 September. We are praying that all goes as planned and that the home is approved Friday a.m. We plan to be at housing Friday afternoon to sign a lease. Then we can pick up a key and schedule TMO. This move may really end soon. ::snort::
The home is beautiful. It WILL require some creativity. I'm sure I'll find some before we move in or shortly thereafter....or I'll post room photos and beg for YOUR ideas. ::snort:: Windy and I have been tossing ideas back and forth.
Mike reports there are wrapped pipes under this space in the laundry room. We are hoping that means that our understanding of floor heat is the same as the builder's understanding. ::snort::


The laundry room is big. I am thinking a wall shelving unit would give us some linen storage or such.....Windy's home does have much more closet space than ours (in the entry way, the master bedroom and the bathroom). This is something you can't tell from floor plans...or at least we couldn't....but there were quite a few Japanese notations. ::snort::
These are STEEP! One of the kids commented that it was like climbing a ladder. ::snort:: The steps themselves are taller and narrower than in the states....and the incline is steep.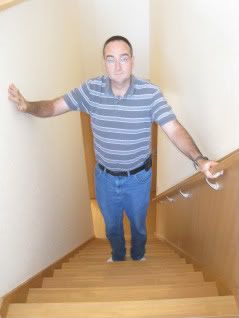 Our kitchen is a great size. We'll need to figure out more pantry/cupboard space...there are cupboards, but they are not as deep as in America. We do have a wonderful closet/pantry in the dining room....we also have an extra wide kitchen. Maybe a desk, or pantry shelves, or a rocking chair will fit in that spot.....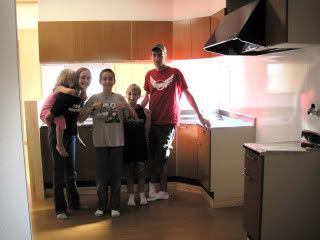 Jared thinks the height of the sink should get him out of doing dishes....what do you think?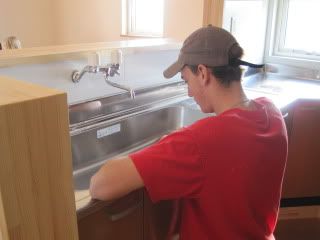 We had been told there would be storage under the stairs. I envisioned a lot of space for boxes, like homes we've had before. However, THIS is our storage space under the stairs. ::snort::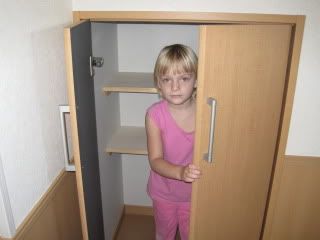 The views are going to be beautiful. Every house has a few surprises and this one is no different. We'll be very happy here.
Choosing Joy!
©2009 D.R.G.

~ Coram Deo ~
Living all of life before the face of God...