Minestrone with Italian Sausage Courtesy of Taste of Home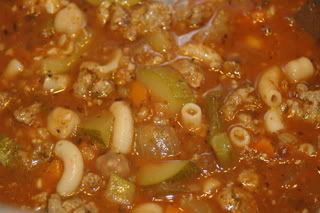 1 lb bulk Italian sausage (I used my
turkey sausage
)
1 onion, chopped
2 large carrots, chopped
2 celery ribs, chopped
1 medium leek (white portion only)
3 garlic cloves, minced
1 med zucchini, cut 1/2 in pieces
1/4 lb fresh green beans
6 C beef broth
2 cans (14.5 oz) diced tomatoes with basil, oregano & garlic
3 C shredded cabbage (I left out)
1 tsp dried basil
1 tsp dried oregano
1/4 tsp pepper
1 can garbanzo beans (I used C of cooked, fresh)
1/2 c uncooked small pasta shells
3 T minced fresh parsley (I used dried)
1/3 C grated Parmesan cheese
*I used more spices....and a touch of honey...season to taste.
Cook sausage & onion over med heat. drain. Stir in carrots, celery, leek and garlic; cook for 3 min. Add zucchini and green beans; cook 2 minutes longer.
Stir in broth, tomatoes, cabbage, basil, oregano and pepper. Bring to a boil Reduce heat. Cover; simmer 45 minutes.
Return to a boil. Stir in garbanzo beans, pasta and parsley. Cook until pasta is tender 6 - 9 minutes.
Serve with cheese - makes about 3 quarts. I doubled - freezes well. I really liked this but it could be because I was able to use so MUCH out of my veggie crisper. LOL