Nolan's GRAND Achievement
Nolan is 9 years old. He has spent the past S*I*X years in speech therapy. The first three years it was 3x a week, the 3rd-5th year it was 2x a week, this year it's been once a week.
His therapist has said that he has all the sounds now, except for "R". We'll work on that. He still has some processing issues....but we can work on that as well. This is a huge step for us. SIX years is a long time to have speech. I'm relieved to be able to school without the pressure of breaking to run to appointments.....I'm excited that he can usually be understood these days. It's all good.
EXCEPT - Nolan has always gotten very attached to his therapists. It was hard to say goodbye in Alaska and move here. It was hard to say goodbye today to Miss Natalie. She is moving to San Antonio so I explained that he wouldn't see her even if we DID go to therapy next year. LOL
He wanted to get Miss Natalie a gift. I had several choices for him. He said, "I'd like to do flowers and chocolate". FLOWERS AND CHOCOLATE. I was rather proud at having raised such a thoughtful and insightful young man.
He didn't really love any of the ones that the florist had made up. He told them he thought Miss Natalie would like sunflowers and daisies. What a sweetheart. They made up this and he agreed that they were perfect.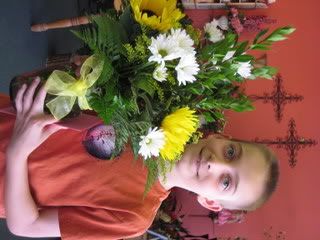 We didn't get the chocolates. We delivered the card and flowers....and everyone ooed and ahed over the sweet boy.
On the way out I told Nolan, "Wow, I've taught you how to treat women WELL. You did that just right."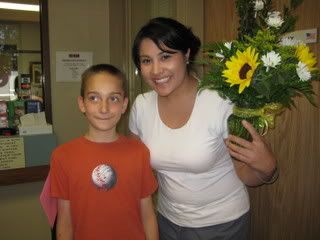 He replied, "Actually, Mom, I've been watching what Dad gives you all the time and flowers and chocolate are what you like."
Score - Mike was gloating over this one. He deserves to gloat. His young son has learned how to treat a special woman in his life. Way to go Mike and Nolan.
When we got home the other kids had decorated the house with signs and streamers...and a giant blanket fort that they will sleep in tonight.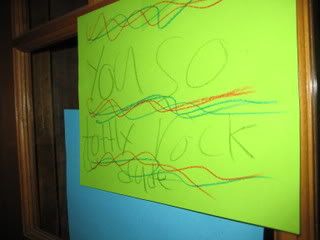 When Nolan walked in they all yelled SURPRISE!
Great kids one and all! I love the care they have for each other. We weren't able to use the celebrate plate or do a special dinner as I was out tonight...and will be tomorrow...but WEDNESDAY we'll celebrate.
They're all out and about watching the Spurs game tonight....I think I'll give up on crunching numbers and sleep on it.