I've mentioned that our house is American style. There are homes our size and larger here. I think because it's a farming community, we do see more homes than say in like Tokyo. Most houses are smaller and close together...no yard between them at all.
Many families live in apartments like these.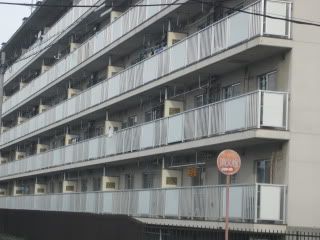 Note the hooks/bars hanging from the ceilings of the balconies. These are for drying laundry. I have noticed most (if not all) homes have laundry poles outside or a room even for drying laundry. In fact a few houses I've seen have what look like SHEDS...with windows all around and lots of laundry drying inside.
Choosing Joy!
©2009 D.R.G.
~Coram Deo~
Living all of life before the face of God...