The Grand Surprise
When the older ones were younger (jr high and high school age), they saved up and bought two canoes. They were wonderful for family outings in San Antonio, in ID, in AK, on the Smith River... We had a pop up trailer and could easily cart both all over America - which we did. We have noted that as the older ones quit going on so many of our outings the canoes got heavier. AND.....then....I bought the trailer at Mike's request when he was deployed. There is no way to put two canoes on the top of the trailer......
Mike has been dreaming of a kayak. The obvious advantages are that it is lighter, we can carry it on the top of the Honda, in a storage bin of the trailer, and one person can carry it down to the lake easily. The disadvantage: only one person can ride in it at a time. I've become accustomed to sitting in the canoe while Mike paddles it furiously around the lake, up and down rivers...you get the idea. I like the canoes, they are very romantic...though currently they lay upside down in our back yard with bird droppings all over them....the kids SAVED for them. It makes me sad to get rid of such a tangible part of their childhood. I suspect we'll sell them shortly. They should get a good price. They are in great shape, and we'll most likely buy kayaks....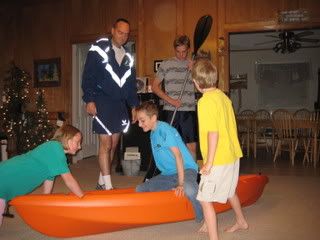 to match this one......
Mike used the rest of his birthday money and a bit extra and bought this while it was on sale.
I admit that it is lighter....and it will be fun to get ON the water....but we could get all of our family in those two canoes....sigh....

The kids took turns trying out the grand surprise.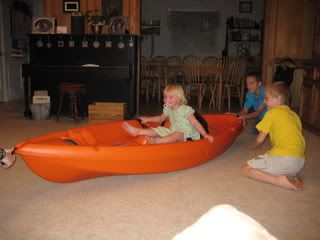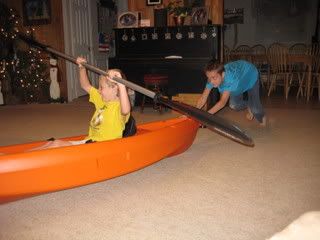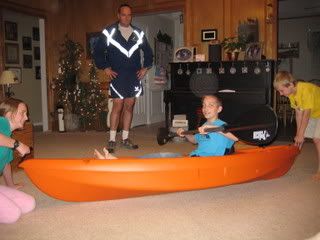 The Iditarod started today and I found that photo of the last one we attended as a family - 2005. I'm missing the girls, the guys are growing up way to fast, and now we have a kayak. I'm nostalgic. (I'm also wondering what that glow above NOLAN'S head is in these photos). ::snort::