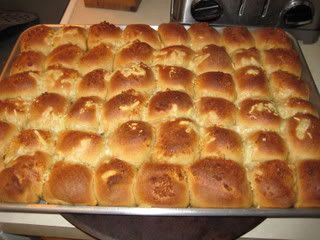 2 cups water (1 3/4 water 1/4 milk)
3 T melted butter
3 t. salt
6 T cane juice crystal's (Rapadura)
¼ cup powdered milk (skipped)
1/3 cup gluten flour
5 to 5 ½ cups whole wheat bread flour
2 T dry yeast
½ cup butter
2 to 4 T minced garlic (I used dried)
Parmesan cheese (I used fresh)
In mixer add water, 3 T melted butter, salt, cane juice crystal's, powdered milk, yeast, gluten flour and bread flour. Knead and add more flour if necessary. Allow dough to rest for about 15 minutes.
Divide dough into 48 pieces. I do this by cutting the dough in half with my kitchen scissors and then each half, in half again. Now you have 4 parts and each will make 12 rolls. With one piece of this dough, cut it in half, and both halves cut again. Now each piece can be divided into 3 pieces. This helps the rolls to be more of an equal size. I then repeat the process with the other 3 sections of dough.
Put the rolls on a lightly greased large jelly roll pan. Melt the ½ cup butter and mix in the garlic. Spoon this over the rolls in the pan. Now sprinkle with parmesan cheese. Let rise until doubled in size.
Bake in a 375 degree oven for 15 to 20 minutes or until golden brown.