Memory Making Monday
The big memory of the day was Zander's dental adventure. You can read more about that below. He did wonderful. Currently, he's still fussing about having "fake teeth" and is not open to the idea of another one at all.
Mike and I managed to fit a date in at lunch time. That's fairly amazing and certainly memorable. We had some great salads at Cheddars (the honey covered croissant wasn't half bad either). ::snort::
Nolan and I raced to speech. Nolan is working very hard on the last few sounds and combinations that give him trouble. We are all concentrating on his sequential difficulties.
We received a call as we left speech asking us to pick up some C7 bulbs, and a couple of piggy backs. We also decided to see if we could pick up an item that was on sale for Circuit City – a gift for my parents. ARGH. This town is worse than ALASKA for shopping. ::snort:: I knew Best Buy does this but it seems that they get 1 – 3 items of sale items. This was in Sunday's ad and sold out an hour after the store opened. I simply can't wait at stores at 5 a.m. on Sunday.
Striking out at Circuit City, we headed to Sam's club (struck out for parents but Nolan found a gift he wanted for Arielle), then Wal-Mart. Ah – the mecca of all things cheap and Christmas. ::snort:: We found the bulbs, more wreath hangers, and such.
Back at home the crew had begun putting up outside decorations. They have lots of lights up. Jared had designed of diagram of his vision. Ah, another list thing… I guess that's why things weren't "quite right" in our decorating last year. ::snort:: Here are a few photos. There aren't many as I was asked to keep the younger two inside.

Jamin was able to help for an hour or so before heading to work.


Ah, they love making memories, these two. ::snort:: Evidently, being headless is genetic.
I put these little candle/lights in the younger kids' room for nightlights...Stacia has been running around singing "my light, my light".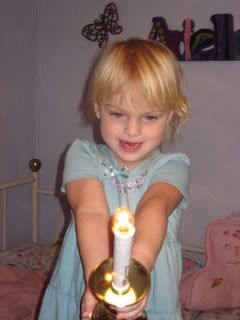 I tackled the MOUNTAIN of laundry that had erupted since we didn't do much laundry on Thanksgiving and the days following.
At 7 p.m. I was sitting in my pj's when I realized it was MOM'S NIGHT OUT. Mike told me to go ahead and change. He didn't think it would matter if I was a bit late. I'm glad I went….I get to see several there that I see no other time of the month.