Little Fingers
This is what it looks like for a big brother to be tied around a little sister's finger
Just home from work and classes, Josiah is tired and has homework to do, but he complies and puts on the hat.
He chatted with me for a bit while Stacia disappeared. She came back (unclothed AGAIN) and said, "Wanna play?" She carried a floor puzzle.
Cy said, "No, I need to do school."
Stacia smiled, cocked her head and said, "wanna play, Cy".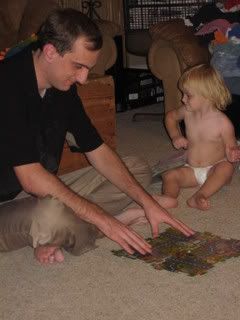 "Ok".....he said.