Yesterday was a catch up day after a very busy Tuesday. THIS is why I must guard weekdays...it doesn't cost me one day of school, it costs two, as we endeavor to catch up. I've taken steps to safeguard weekday mornings. It will be better in a couple of weeks. Of course, it's HARD to get dental and doctor appointments here, when they are available, we must simply deal. LOL
I visited Maeda for a bit of food. I didn't want to drive to base and lose another a.m. Shopping always is full of adventure. For instance:
I tried Sake, Shoyu (which I couldn't read the label or I would have recognized) before I found Yakiniku sauce.
Akiko later informed me one of the yakiniku sauce that I purchased was really yakitori sauce. Ah well, it all works.
Carts here turn in ALL directions....mine discovered a mind of it's own and headed back to the checkout line...mowing down a woman on the way. ::blush::
Sumimaisen is a very good phrase to know....
Bowing low is a very good talent to have....
The dairy aisle has a ton of drink options packagaed like milk, but not all are milk....
Do visit the obento aisle.
Do visit the bakery, but....
Beware of bean paste masquerading as chocolate in "donuts, brownies and rolls".
If there is a cow on the front, take a chance...Y149 for a liter. ouch.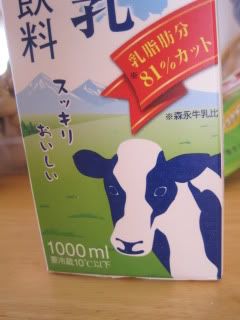 Food Adventures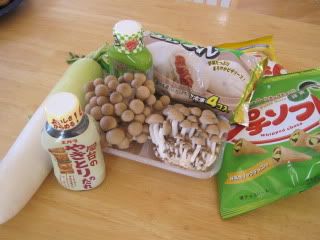 Daigan is the white looking thing on the left. I bought a small one.I planned to saute/grill it with mushrooms and onions in Yakiniku sauce. Akikosan informed me that is NOT THE RIGHT way to cook it...but I think I'll try anyway.
Across the top of the photo is Nikuman from Maeda's freezer. Thanks for the tip, Kim.
I already mentioned the sauces. Akikosan says the yakiniku is a DIPPING SAUCE ONLY...and the yakitori is for CHICKEN only and for grilled chicken - a marinade. Hmph.
The green bag on the right is our treat of the day - a mini sugar cone with "ice cream" like stuff in the middle...not really freeze dried, more of a mix between pudding and freeze dried. We thought the green was mint, we're not so sure now.
The kids thought the mushrooms were strange....but I also found bananas, pineapple and seedless "clementines". LOL

The above sports a potato filled roll, cheese filled roll, wrapped sausages, pizza, chicken nuggets on a strip, chicken dumplings (pot stickers), and potato on a stick.... I decided to bring home a variety of selections that looked kid-friendly from the "deli" - which is set up to be obento - take out lunches. This led to a fun lunch and some new adventures:
"Pizza" - I learned this before, but forgot. The crust was nice and thick - usually paper thing and crunchy around here.....it looked good. When we sampled we discovered it was topped with mayo, potatoes and fish chunks. The kids weren't thrilled.
The Chicken dumplings are a hit.
The various rolls met with various responses.
Never assume "nuggets" on a stick ARE chicken nuggets. These were various unrecognizable pieces chicken and fat on a stick. This made the fish pizza more appetizing.
We'll pass on those specific potatoes in the future, or buy them hot at a vendor.
Get out and TRY the new things; it was fun. The kids will feel more and more comfortable with options out in public as we try them at home.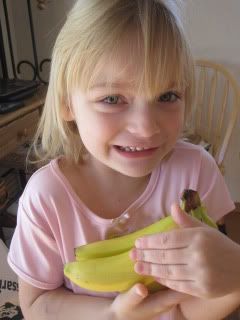 Stacia was THRILLED with the bananas...."Little bananas!" I bought two bunches and they are all gone...which is sure to lead to more shopping adventures in Northern Japan.
We did school, cleaned a bit, cooked a nice dinner, enjoyed our Advent traditions and had our Japanese lesson. Akikosan asked a few questions about our decorations. This is good. She had asked us each to bring our favorite book to the lesson. SHE ASKED. I brought my Bible. I wish I could have snapped a photo...but the moment was too important. She looked. Sat it down. Picked it up and looked again. She turned it on all sides to check it out. I have a big Bible...and as mad as I was at the theives who stole my Bible this summer leading to this new Bible....I realized I would gladly give it to Akikosan if she expressed an interest. I told her what it was. She told me it was a "Bibudu" or a "Sayisho".
Akikosan brought photos of her growing up years and pets to show us. After the lesson I asked her about Onsens - she recommended her favorite. We talked about children (because I wasn't happy with a boy in the onsen Tuesday night). This led to a chance to tell her that I believe children are a gift from the true and living God...even lots of them. She appeared a bit puzzled and may ask again about our family size. Little shrines to aborted babies are common here. It's heartbreaking. They ACKNOWLEDGE the baby is a life and soul....but feel that they must abort. Abortion rate is high. I knew that Akikosan wondered why we had nine children because she often comes back to this fact in our lessons. ::snort::
I thought we would need to cancel lessons for next week, as we have dental appointments on Wed., but she really wanted to continue to meet, so we'll adjust. Please pray with us that our family will display the love of Christ to Akikosan in a way that is authentic and real and understandable to her. She isn't real sure what Shintoism believes on a number of points which I've asked. Jared is now researching Shintoism and I think he knows more about it than her. We would love to introduce her to Jesus sometime in the next 3 years....or maybe we are simply here to plant seeds. I know that she has our Cadence Missionaries and another Chaplain's family in her group classes. God is planting seeds.
Choosing Joy!
©2009 D.R.G.

~Coram Deo~
Living all of life before the face of God...