I don't know what to title this....
Stacia continues to process relationships. She greeted me this a.m. with "Mommy, are YOU my mommy?" I assured her I was. She replied, "That lady is NOT my Mommy." Then she said, "Does that lady Mommy luf me?" Well Deja....guess I'm still the Mommy but you rate being allowed to LUF her. ::Snort::
Mike continues to reside in the trailer as he tries to prepare for his 3rd test on Thursday. We won't see him until Wed. afternoon.
He did come up for chapel this afternoon. LOL Shew...what a service...but hey...challenges make you grow. ::snort:: You can be praying for Mike as he will need diplomacy to deal with a couple of issues this week.
The kids and I joined Steve, Debbie and their boys for dinner at Cheddar's. Their boys and our older 3 went to see a Panda movie tonight. Steve and Debbie went home. I brought the little ones home for a swim.
Stacia has found something she likes to do in the pool. Thanks, Doug and Deja, for passing on the floaty toys that Elisha can't use quite yet.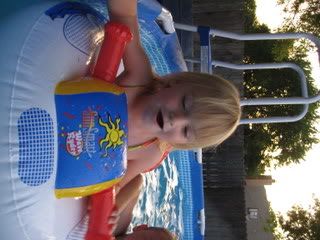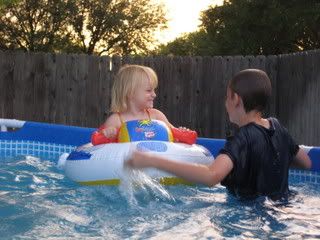 She was trying to ram into everyone....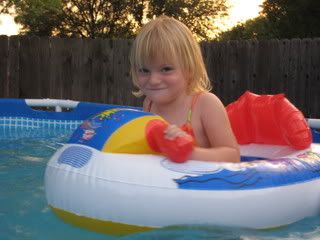 I updated the PWOC directory, sent out June's PWOC newsletter, began to finalize our United co-op order (and gave up), and now I'm going to BED.....because I'm tired....and because I don't want to do any of the things left on my to do list. I think first I'm going to pretend it's midnight (because it is 11 p.m.) and send on some emails to SHS. ::snort:: Then I AM going to bed.