This is the 4th year that this chapel has put on "The Living Last Supper." I'd never seen this before moving to here, but it is meaningful.
This evening is based on Leonardo Da Vinci's painting. The narrator sets the scene. Jesus starts by saying "One of you will betray me," and then each disciple gives a monologue about how he came to know Jesus and pondering if he could be the one who will betray Jesus. I searched the internet for a link to the script and can't find one that is just like ours -
this one
is much longer and involved but the disciple's monologues are close.
Mike had asked me to make some "authentic" unleavened bread. Well....that would be passover bread. It would be flatbread - pita like or matzah. We talked and he wanted it fluffier. Huh? He wanted AUTHENTIC....I hotly argued (and it wasn't a proud moment for me) that flat bread WAS authentic. Then we realized I was thinking authentic to 1st century Jerusalem and HE was thinking authentic to the painting.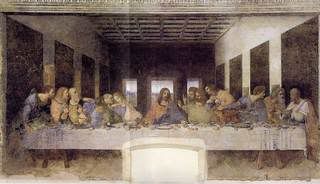 OK - flat hoagie rolls you can throw around. I can do this. He also wanted a "fluffy but flat" round loaf for communion.
The round loaf rose HIGH - and so Mike cut it in half.
There are no women parts in this production. One of our airmen got hung up and didn't make it before the performance started. As they scrambled to find a man to fill the role of the missing disciple, Debbie and I helpfully suggested that some believe Mary Magdalene was the disciple on the end. Mike gave us a look that said, "that's bunk/"
The show went on. I was satisfied to be the OFFICIAL photographer. Mike said that I can post these photos as all parents of minors have approved.
I went into the "locker room".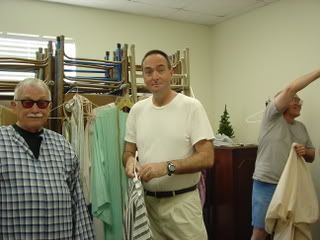 Checking the painting one last time for "stances"
The scene begins....
*Notes - next year remove the wall clock and posters, hang a shower rod with curtain over the door....and maybe consider wigs as all our disciples have military cuts. LOL Also, saw horses would make nice rough looking legs for the table...and a few dried fish would add to the atmosphere. Candlelight versus industrial light would be good too.
I can own two of the disciples...
Nathanael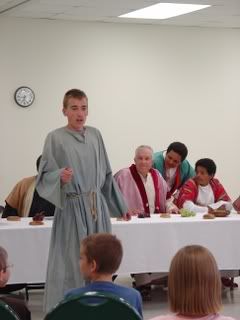 Peter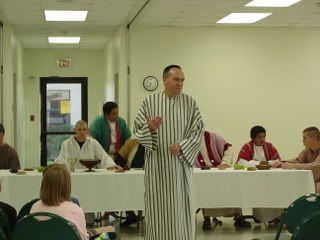 Both did a great job. All did a wonderful job. I love this evening every year....though being a military chapel our cast continues to rotate.
Judas - disciple in the back seems skeptical of Judas' monologue (new camera and I wasn't use to the focus - focused on the money bag - but it seems appropriate).
Table shots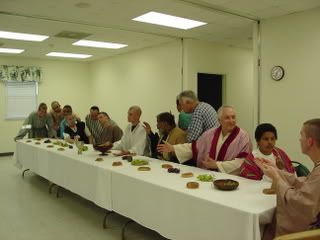 Mike ended the night by serving communion to the cast and then the crowd. The gentleman on the left is a retired Navy chaplain and the gentleman on the right is Rev. C whose vision guides our Gospel Service. We broke bread from the halves and dipped them in the chalice.
Random photo of a child's plate of food (and it WASN'T one of my mine) - cracked me up. Nothing says chapel like lots of SWEETS (though there is fruit too - actually 1/2 and 1/2).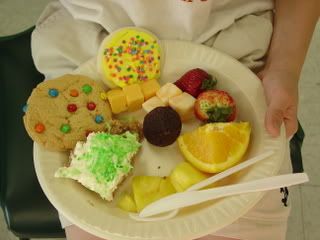 Jared rushed to CAP after he was done. Mike went to pick him up, and they aren't back yet, but soon. On the way home (Mike brought us home and then went back as we forgot to take two vehicles) Mike mentioned maybe next year we should do a Seder with the audience all in era costumes. LOL Maybe we'll do our Seder this year in era costumes....I'm so glad we aren't pressured to do it tonight....it will be better for us to do it according to the Jewish calendar this year.