Hmmm.....
I could post the devotional I shared Sunday on a yahoo group I co-own. Most of you have read it already. LOL
This boy stayed up with me LATE to see how Montana would go.....he is very concerned about how his birthstate will vote. I finally sat down with him and did the math to show that even if all the states left go Red, the outcome is still the same. That seemed to settle it for him and he went to bed. I'm not sure what he'll say if Montana has gone blue.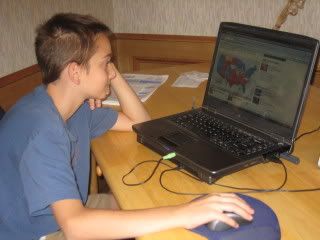 What am I going to do in the next weeks? Continue to pray and fast for our country and leaders. I'm also going to see if Mike can do anything about that prediction of where our next assignment will be. I'd rather stay in the deep south or move to a "fly over" state.
Giving Thanks - Day 4: Regardless of the outcome of the American elections, I KNOW WHO IS THE KING OF KINGS!!! and He isn't about to be voted out of that position.
I am choosing joy. I am choosing to cast my anxiety about the direction this country may be heading on Him.


©2008 D.R.G.