Monday (how's that for a catchy title?)
We spent the day doing our "spring cleaning" - I know, I know - but the leaves are FALLING so I figure I can choose the season I want it to be. Today it's spring. I like to clean this time of the year.
I continued to work through the library. I gave it a good overhauling and it feels much more peaceful. Clutter plain stresses me out. I'm on a huge declutter campaign again. I'll take at least one big load to Goodwill near the end of the week.
We're really sitting pretty for Christmas. The presents are all bought. Some are still on their way...grrr. I'm cleaning and decluttering. I've begun getting extra bread and such in the freezer. I have NOT managed to get meals in the freezer so I will be doing more cooking while all are here than I'd planned. Even that, however, can provide special times of fellowship. It will all work.
Here are a few photos of the day: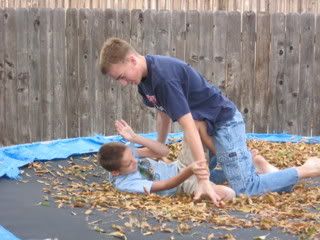 "Cecil" again. That naughty dragon!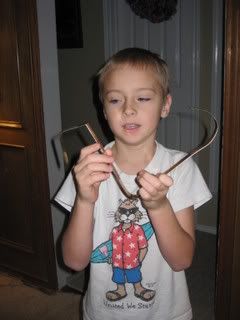 Nolan took a drawing and a bag of "friendship soup" to his therapist. We'll not see her again until 2008. Wow.