PRAYER REQUEST and a SUMMARY
Please pray for Josiah (19 yo). Tonight was a hard night at work....one peer with a brother dying of cancer and one that had to be fired. Pray for Josiah's witness and for God to be glorified. There is a chance that Josiah will not be able to go on vacation with us due to these situations at work. Please pray. I know it's not earth-shattering but we'd love to have him there and he'd love to be there.
Now....a summary of the day......
I crossed 12 items off the list.
We cleaned paint off pillars, patios, carpets, children and dogs.
Jamin made his homemade pizza for dinner.
I found out that Jared needs $100 more than we had calculated. God will provide work. I know He will. In fact, he has been asked to take out a rock thing in someones yard when we get back. It will come together.
Mike worked all day (this is his day "off")....I worked all day.
I put in all the titles I need for the first unit of next year and it came to $744...this is NOT paying for the syllabus....and we decided to combine Zander and Nolan on many topics next year so that saved a level of books.....I'm going to take the list and go through the library catalog tomorrow....then I'll scrutinize it again....for instance do we need an art book on the middle ages for EACH level...or would one work for all....does each level need a church history book etc. Mike looked at all the books around here and said, "I would think at some point we'd have all the books we need for a school year." The thing is I DID have a lot of the books on the list. ::snort::
I called Sprint. The official stance from the highest supervisor I could talk to is, "if you call and request the discount we will give it to you." BUT it doesn't matter that she told us we'd have it - we have to call and request it or they have "no proof of your military status". Um.....when I talked to them on the phone the did NOT ask for any additional proof, they DID see our ID etc at the kiosk and Mike LOOKS military....not many men his age walking around with a buzz like this unless they are in the military. ANYway....Mike filed a complaint with BB and I have contact info for the corporate office. I think they need to train the locals better.
I'm off to bed.....it's nearly mid-night. Whatever isn't done can wait until tomorrow.
OH - do you know what this means?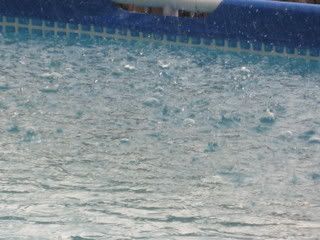 IT RAINED TODAY! YIPEE!!!!
©2008 D.R.G.