Monday, December 31, 2007
Click
here
for the guidlines of this meme. My WFMW posts (click for post):
Conquering the Sock Chaos
The Sock
Homemade Laundry Soap
(though I never got around to submitting this to WFMW, I'm putting it on my page - because it is an easy, money-saving tip.)
Many things that don't work for me!
Tryst Journal (Prayer Journal) and other journals
Green Bags - yes, they work!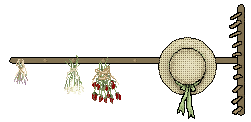 Joyfully Penned by

DeEtta @ Courageous Joy
at 10:00 PM
0 Gracious thoughts