They are ALL home!
This photo "should" be last - but it MUST go first! Krista made it home at 10 p.m. All nine children are now home "where they should be". ::snort::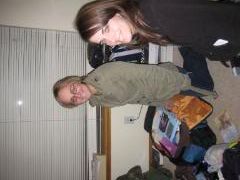 Today I took Bre for the traditional Christmas hair "cut" (she's not cutting as she's growing her hair for locks of love, but she wanted a trim). We moved onward from Heather to the traditional Christmas Eye Exam and stock up of contacts. Bre has now finished her "yearly maintenance". ::snort::
We had several "activities" that were on schedule for today.
We played games.
We made a Gingerbread house.
We attempted to make a Chocolate house. We decided it would be best to simply eat the chocolate.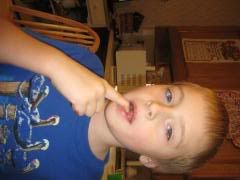 After our short devotional we looked for a gift. Our clue was "beside the fire, under the shepherd"....Arielle figured it out first. The gift was socks.... the wool ones were a big hit.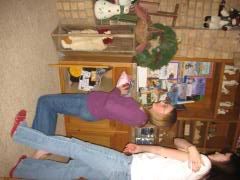 We played Mafia until it was time to go to the airport. I forgot to buy Zander's flowers for Krista, Josiah rescued me. He and I raced to walmart and then on the airport with plenty of time.

People seemed inordinately pleased to vote me the mafia.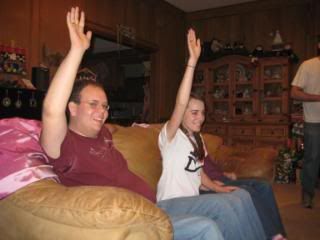 Arielle proclaims her innocence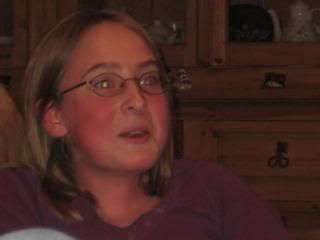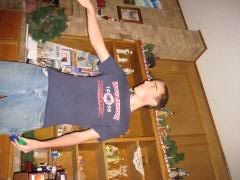 Krista brought this homemade "twister" board home for us. It is MUCH more durable and she made it a bit bigger so many can play at once.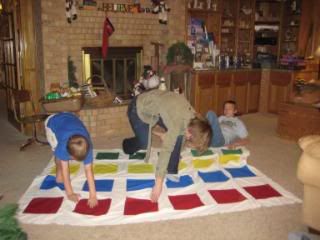 This is a first: I keep falling asleep as I try to type. I KNOW the clock says 11:59 p.m. but it is really 12:30 a.m. - so I'm DONE.

©2008 D.R.G.