A Morning at the Theater, Toast Gadgets, & Produce!
The younger 6 children and I headed to the local university to enjoy a production of Narnia. The cast did a wonderful job. It was 2 ½ hours long and Zander sat through the whole thing. Stacia provided a bit of distraction from time to time, but all in all, I thought she did well. We even got a nice walk as I wasn't aware that we were allowed to park in permit parking areas for the performance.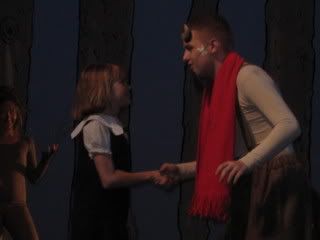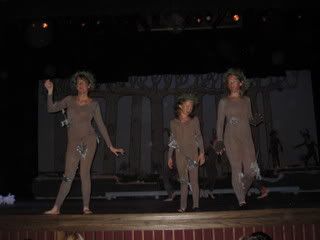 I made a few phone calls back at home.
I picked up our co-op's produce order. We had produce co-op from 4 – 6 p.m.
I received a package from afar. What could it be? It was from Pre-loved Books. I didn't remember ordering any books. There was a custom slip on the back….hmmmm….Dorothy is from England. I opened it to find this!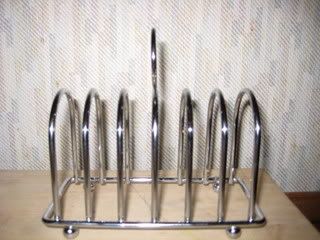 It's my very own toast rack. I've listened to these being discussed for years on SHS and now I own my very own! I think the idea is to keep your toast from being soggy when you slather it with butter. THANK YOU, DOROTHY! I'll think of you every time I use it, really I will.

We opted to grill some steaks tonight. EVERYONE planned to be home at dinner time, though Mike ended up not making it home for dinner. I quickly toasted some bread to try out the new gadget.

Does it go this way?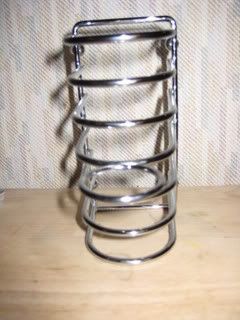 Nah, this seems to work.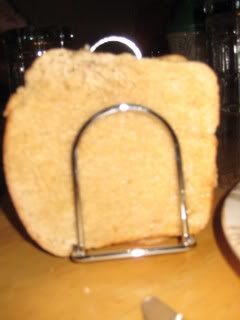 Stacia thinks it's her own personal toast buffet.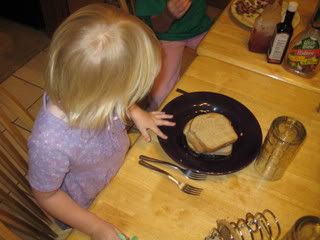 Mike was home late and didn't have the benefit of "context" as he tried to figure out what the new gadget was for.
We enjoyed general merriment with the older boys HOME.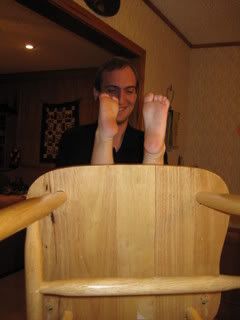 We discovered anew that Stacia is allergic to something in the store bought ranch dressing - could be MSG? This is her seconds after I gave in and let her have a "little" ranch dressing. We threw the bottle out and I WILL make homemade before our next meal.
We popped some popcorn and watched Jingle All the Way from netflix and then the Red Green Christmas Special (which we'd ordered as a surprise for Mike – a die hard Red Green fan).