After the event with Jim Weiss, we walked across the street to enjoy one of the city's parks. I'm consciously choosing to go on "family outings" even if 4 of the children are big and grown. LOL
Stacia tells Jared she wants to catch "ducky duck."
She sneaks up on him...
He always got away!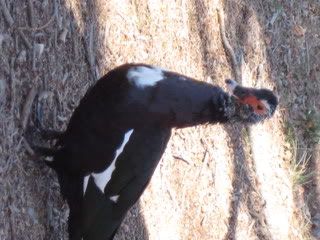 We ran to the commissary and picked up milk and a few items for a picnic at the base's Lake Rec Camp.

While Mike and Jared loaded boats, I made lunch and picked up the house.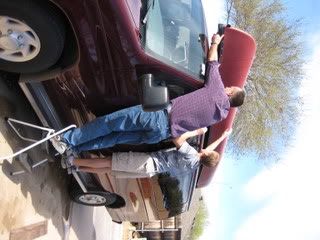 We're off.....loaded for fun. Canoe on top, kayak inside...life jackets, bocce and food!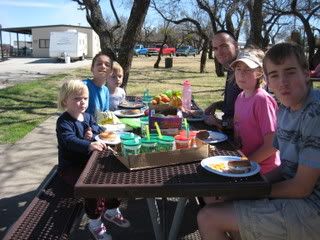 Zander practices his style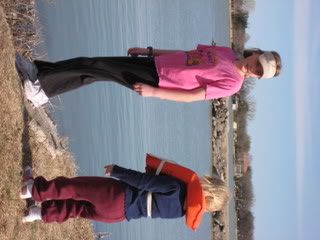 It was VERY windy today; the boating didn't go exactly as planned. I've had a grand time recounting the story to Bre and Krista but have decided not to recount it here. It appears that I have the "gift of exaggeration" and um....I'm studying Eph 4 this week - I must remember that exaggerating is akin to falsehood. ::snort::

I will say that Mike says there are a few "design faults" in the kayak. Mainly, THIS one is not meant for a 6'3" man. ::snort::
I'm still sold on canoes...that kayak didn't look comfortable, and I know for sure you get WETTER. ::snort::
I read from "The Next Level," Jared and Mike played Bocce, the younger ones played on the playground...great day at the lake.
I got to talk to both girls today. They've had a bit of a rough week - ah the joys of being young leaders. Bre said she'd like to have my discernment - and I told her when she is my age she'll have it. ::snort:: She's doing fine now, but you know how it is...you always question if you've made the right choices as a leader. Do pray for the girls as you think of it. Bre is planning on staying as staff at Master's Commission. Krista is praying through a few options.