4th of July!
One of the highlights of my day was getting my inside fridge cleaned...shelves-taken-apart cleaned. LOL
Seriously, we had the joy of hosting a new chaplain's family and Bill and Jesse from our contemporary worship service yesterday. I do not have a lot of photos to share because I forgot to ask the L family about posting photos of their minors on the blog and most the shots are "mixed family" shots. Ch. L is fresh into the Air Force. He and his family (four children) moved here this week. We find that we usually have one or two children that are the "right" ages for most families we meet. This was no different.
We had dinner. We visited. Cy and Jamin got home from work.

(Should have taken the Nikon - but even then we don't get EXCELLENT fireworks shots). We all headed out to the Lake to watch fireworks. We were able to get RIGHT up FRONT - as near the water as possible - to watch the fireworks. Stacia and Zander missed the last two years of fireworks (weather and flying) and so this was the first set they remember. It was a lot of fun. They were amazed. Stacia loved them; but thinks they are colorful bugs.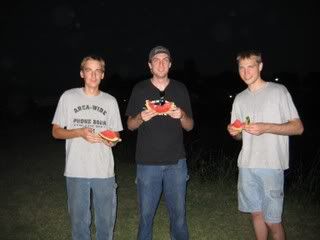 The L family brought a watermelon and we all enjoyed it at the lake. Alas, in all the lake photos of Ch L, Mike, Bill & Jesse they are making strange watermelon eating faces...and I won't post those sorts of photos for any of my non-family members or they won't want to hang out with me any longer. LOL

Tammy had enough of these glow sticks to pass around to all the kids. They were amazing....bright arcs of color....but the camera froze the action....Why doesn't it freeze action this well when I WANT it to? ::snort::



5th of July
Jared went on a CAP flight and enjoyed getting the controls a bit of the time.
I updated a few blog things and played around with the idea of a new URL for the blog...but I must be sure I won't lose THIS blog and body of info when/if I change the URL.
Mike met Josiah for breakfast after taking Jared to the airpor and then worked at the office all day.
I picked up some stuff for a reception tomorrow and drove it up to the chapel. I hung a few posters at the chapel. I dropped off a load of boxes at the base recycling.
I swam with the kids.
Josiah dropped by and picked up Jared. He and Jamin are spending the night at the apartment tonight.
That's all for the day.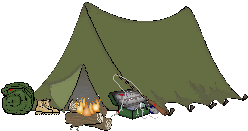 ©2008 D.R.G.