We got the leave time for Mike messed up. This meant that Mike had a day of leave after he got home.
I got a call that our beef was ready to pick up.
We got 4 bags like this - a total of 338 lbs. It came to $2.41 a lb for NO anitbiotic/NO growth hormone beef (EXTRA lean hamburger).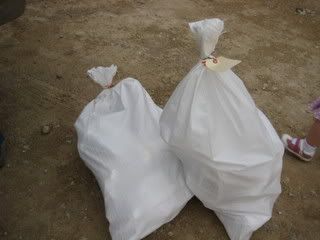 The freezer had plenty of room..but is nicely full now. I think I could do a whole cow next time. The funny thing is that we've never even had a lot of the types of steak we now have in abundance. LOL The second basket is full of ground turkey.
We got home with just enough time to put the beef in the freezer and for me to head to Bible Study. We grew again....we're having fun.
I closed out our United Natural Foods order after Bible Study.