Tuesday, November 17, 2009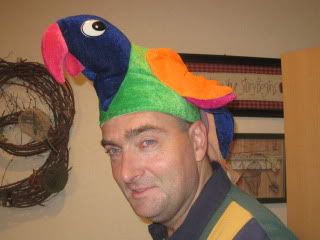 Yesterday (the 17th) was Mike's birthday! He chose the parrot hat instead of the pig hat.

We discovered that we need to plan ahead for birthdays of people over about 8. Oh well....We did find a few things for Mike.
Headphones so Mike can play the piano as loud as he likes, as late as he likes....and kids can practice whenever they want to - even if we're doing school in the same room.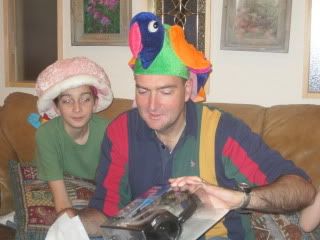 We also got him a sweatshirt. It looked really big in the shop, but not so big next to Mike. I bet when we wash it it will fit Jared or I. LOL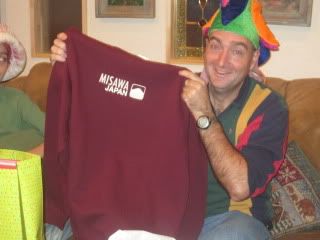 It was a busy day....but we found time for games and birthday. A highlight of the day were emails from the kids, messages from friends, a Skype call with his parents, and a video greeting on Krista's blog. We also had PWOC in the morning and Middle School Drama in the afternoon. I fixed Manicotti instead of a roast...but we're still eating real food. LOL
Mike and Mom and Dad share the day....it's their 47th anniversary - and since the sun is now up on the 17th in America...Happy Anniversary Mom and Dad.
Choosing Joy!
©2009 D.R.G.

~Coram Deo~
Living all of life before the face of God...

Joyfully Penned by

DeEtta @ Courageous Joy
at 6:07 PM
4 Gracious thoughts