SUNDAY......
There have been changes in the planning at the local chapel and today is the day they were implemented. I'll spare you the details - it's enough to say that very few really understand all that goes into keeping a chapel humming...how each decision by A will ripple down and affect schedules down to Z. I'm not sure those who attend or work there totally understand. ::snort:: For us this meant that our traditional service went to 10:00 a.m. Wow. Folks liked this and were happy. It really puts it back to where it was 2 years ago before decisions rippled down causing us to move to 11:00 a.m. LOL Our 6 p.m. service, the contemporary, was moved to 1:30 p.m. Hmmm.....THIS was a bit rockier. Over 1/2 the congregation forgot about the time change. But those who remembered were happy at the new time. ::snort:: This may not be where this service lands. We shall see.
It was nice to be done at church by 3:30. Mike stayed up at the chapel until about 10 minutes ago.
Mike says we can buy a pool for the back yard. The boys and I were going to level the yard today....but it was 101*; we didn't.
Josiah was invited to the lake with some friends from work. He invited Jamin and Jared to go with him. They had a good time.
The younger ones played here.
I explained the United process to a new co-op member, worked on digital scrapbooks (18 more pages today), cleaned house, did laundry...not a very exciting day.
Josiah, Jamin, Jared and Nolan then went to a local school. They met some friends there and visited and played a bit of ball.
I got the MAY photos digiscrapped. I'm not sure what I think. There were 42 pages. I get way more photos on a page with my naked albums. Though these are fun. I'll have to keep thinking about it. I am having fun with it and I have two free weeks. I may be able to get all of 2008 done in that time. LOL I made a slide show of the 42 pages; I was very excited. THEN I realized that you can see locations and minors and I can't break that rule. LOL
Some point during the day we realized that Stacia had climbed onto a bar stool. When did she learn THAT?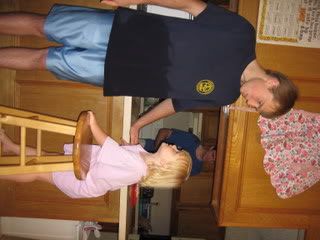 But she didn't know how to get down. "Jamin - I need HELP!"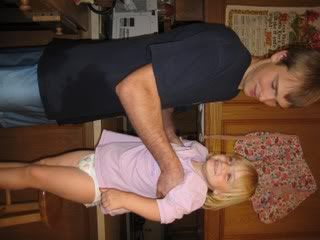 Then up again and down again - over and over....