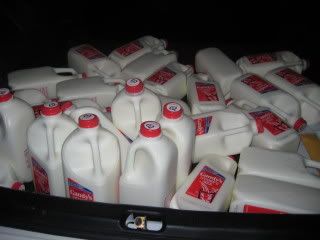 Remember my joy at Albertson's 10/$10 sale on milk? Here's a few random facts on milk in Japan.
Kim reports from Tokyo
milk on the economy in Tokyo sells for $1.50 - $2.00 per liter (quart)...
$6 - $8 per gal
Renee reports from the Misawa Commissary
milk is not sold by the gal.
it is ultra-pasteurized (ugh)
$2.05+ for 1/2 a gal.
$4.10+ per gal
De'Etta's Conclusions
This is one instance where the commissary is a real blessing.
This takes me further from my goal of certified raw or raw/pasteurized milk.
We drink 2 gal a day around here....though we are down to about 1 1/2 gals....
This will be $43 - $57.40 per week at the current rate of consumption....look for changes...but viva la COLA (Cost of Living Allowance).
Another example of the sort of current and insightful reporting you've come to expect on this blog. ::snort::
Choosing Joy!
©2009 D.R.G.