Why do I take so many photos of Stacia? Consider this.....Zander wanted to make sundrop cookies today. Arielle wanted to make cookies. I told them to work it out. Arielle made
chocolate chip cookies.
I wanted to grab a photo.
My Headless Son
My Finger Lickin Daughter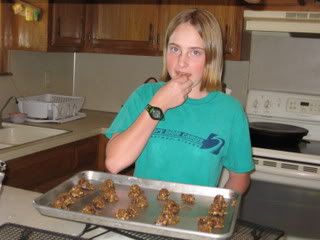 Third times the charm (I could photoshop out the chocolate on her MOUTH)
These older ones are tricky to catch.
Stacia is a willing accomplice when you pull out the camera! ::snort::