Mike's home, and I'm on the computer because Zander came in with tears in his eyes and said, "We're waiting for Dad". LOL Mike reads to them each night as they go to sleep - and they've been waiting for his return. What a great Dad - he got up (and he's DEAD tired) and went to read to them.
We baked today.....

We finished our Dragon Puppets and decided to move on to Greek projects now. We'll come back and do the projects from Tibet and Indonesia later. The kids want to do some fun projects from Greece. I'll be pulling that together tomorrow.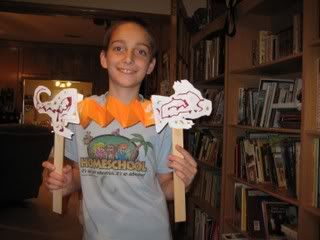 Mike DID get home tonight. I was at Bible Study. When I got home, he pulled his suitcase into the living room and the kids gathered around. He always has gifts (mostly from Mom this time - they were a hit, Mom). It was hilarious when Zander pulled the piano stool up for a front row viewing.

That's a wrap on this day....surely they'll be done reading soon. OH - Mike brought home "Kerplunk" by Patrick McManus. He says it's for our next camping trip, but I bet we read it sooner. He also brought news that the girls have two weeks off in August, and they are planning on meeting us in CO for camping. I'm not 100% sure that the girls are thrilled with this plan - but it will be fun to have them on a camping trip again. ::snort:: Something to look forward to: August is only 6 months away - I can live 6 months without seeing my babies.