Dental Dilemmas
Today was our morning at the Dentist. We were all up, dressed, groomed and out the door by 8 a.m. I was even armed with my camera. ::snort:: I didn't get Josiah's photo before he was done and on his way to classes and work.
We really like this dentist. He's older. He's "common sense". He LOVES children and I've never seen an office that is as patient and gentle with children.
They even keep toys in the hygienist's room so that kids can watch and play while others are being worked on.
Zander has some sensory issues. His differences really manifest at the dentist. I have SO appreciated how well Miss Gina works with him. We have NEVER been able to get him into the dentist chair. After three tries, she had him in the chair and we cheered.
Today, he walked in (4th visit) and said he wanted to be first. He hopped right up there.
He's been saying he has a "sharp tooth". He often talks about dinosaurs (ok – 90% of the time) and I assumed he was pretending he was a t-rex. He let Miss Gina LOOK at his teeth today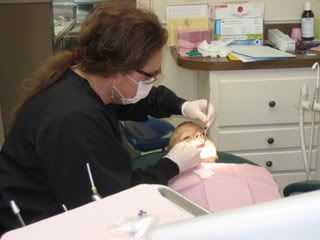 – and we discovered that he has a tooth that is so bad that ½ of it has fallen away. They have no idea why he's not been complaining of pain. The thing is NOW we have to figure out what to do. They can't do it at their office. They've suggested two options. One the dentist doesn't like because he thinks the pediatric dentist will traumatize him with the "get em in and get em out – time is money" attitude of the office. The other will lead to future orthodontic work. Ugh – either option may well set us way back again at getting him to open his mouth at the dentist.
Random Shots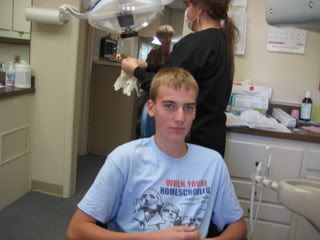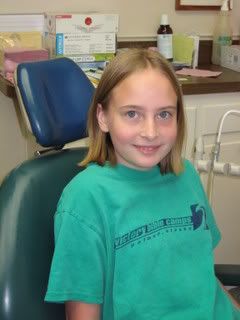 After this shot - I warned a certain 13 year old that *I* had hiney shots of him as a baby and if he didn't want to see them on the blog tonight - he'd best put the camera UP.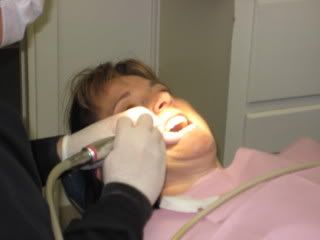 When the dentist came in he said he wouldn't show his tooth to him, "Only to Miss Gina". We usually go out to Dairy Queen to celebrate our clean teeth. I told him that we'd let him choose where we went if he'd let the dentist look. He did.
We went to "the Game" – Mr. Gattis.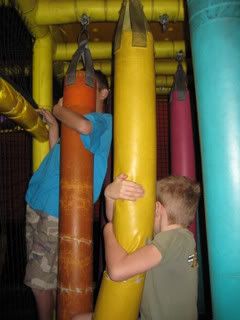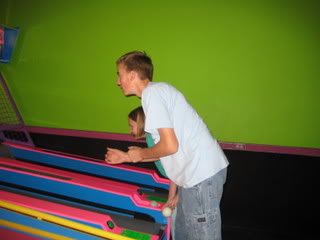 "Jare - come ride my car"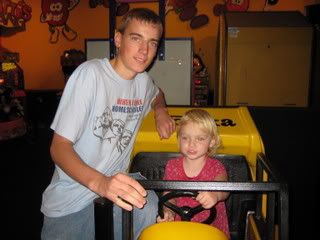 This girl loves horses and this is "my horse"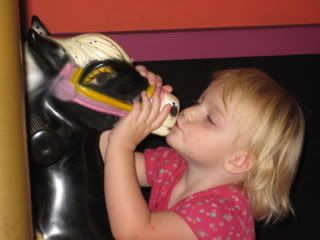 Let's see...then we did the HoF run. I cooked dinner. I got a work out in - I've been mixing that up a bit more in an effort to see results.