Thursday - I'm CAUGHT Up!!!
Cy bought "church chairs" for his apartment. He's rescuing an antique table from me that I rescued from friends when they moved from here to attend Seminary. It has no chairs.
After looking all over town - he found two. Evidently the "church look" bothered him. He went to walmart bought vinyl, green fabric and silver spray paint. He fixed them. The plan is to keep his eyes open for two more church chairs that he can make match.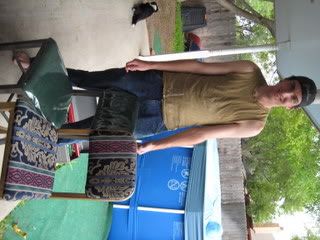 Since he exhibits this sort of ingenuity I'm sure he'll figure out how to cook nutritious meals in time. ::snort::