Thursday –
I drove Bre to the optometrist today and then we went out to lunch. It was fun to have some one on time with her.
While I did that, Mike took the trailer without the heater back to the base. That leaves only ONE trailer in our driveway. ::snort::
Deja called to let me know that our local health food store had everything at 45% off. They'll be closing on Saturday. Krista, Arielle, Stacia and I headed over. We bought a lot of organic convenience food that I wouldn't usually buy. We stopped by Sam's Club on the way home. It wasn't "one on one" but it was nearly one on one time with Krista. Stephanie, right after we saw you, the sample lady asked if my GRANDAUGHTER would like a sample. That happed all day – folks thought Stacia was Krista's.
Josiah and Jamin are back at work. Jared is feeling sick. I'm not feeling great - but I'm not giving in just yet.
After dinner we headed out to see the city's Christmas light display one last time for the year. It is nearly impossible to get a photo of the entire nativity, but we tried.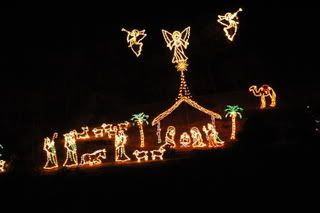 Thought this new fountain was pretty...