Christmas 2007
What a blessing to have Mom and Dad home with us for Christmas. There were many Christmas' when they were overseas and Mike and I take joy in having them around now for our children to get to know.
The highlight of this year, FOR ME, is to sit quietly and listen to ALL NINE children play games, visit in the living room, the older ones share their heart after the younger ones are in bed....they are growing up and these times together are precious. We know that in the not to distant future there will come a year when we won't be able to have all the children home for Christmas or a summer break (gasp - that didn't happen this year)...and so we are storing up memories. I found myself wanting to freeze frame a minute last night. Mike and I were in the library - trying to check out something on the computer. The little ones were in bed. Mom and Dad had gone to bed. We relished the sounds of joy, love and FUN coming from the living room as the older 5 visited. Life is very good.
Photos in no real order - maybe a few comments! It could be done perfectly with comments or it could be done. I chose DONE so I can go play with my babies! ::snort::
"Someone" has hid Jotham's Journey a few times this season. It was in the laundry hamper this a.m. when it was time to read.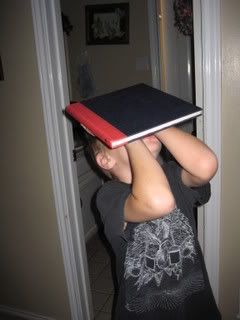 Zander is glad Mike is FINALLY done reading. Then we had prayer in our prayer circle and then we finally opened gifts.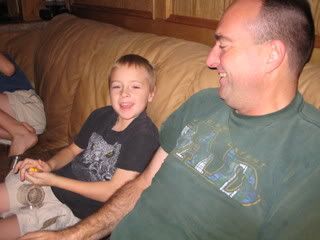 Grandma bought Arielle a tea cup with butterflies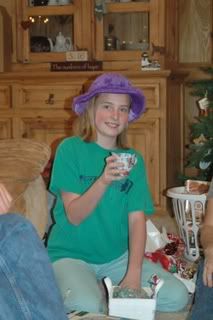 My gift from Cy - LOVE it!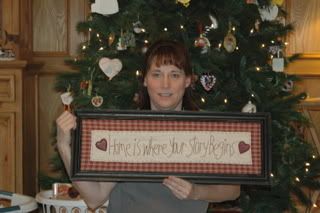 Zander waiting and waiting for the candle to BURN OUT so it can be Christmas - we showed him grace and simply began. We DID catch the Advent Wreath on fire Christmas Eve. ::snort::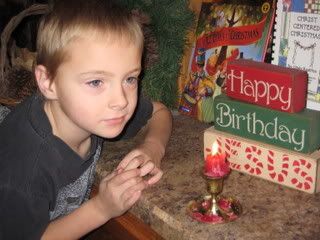 Ah...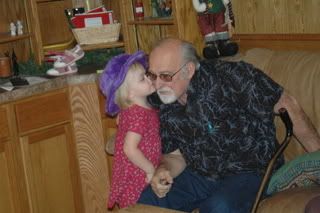 Mike's a good sport - his gift from me didn't arrive - seasons 1 - 15 of The Red Green Show...maybe today. LOL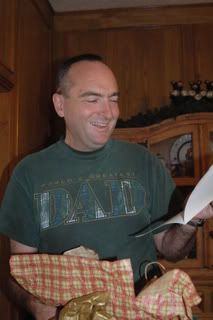 Nolan's gift from Arielle - and Zander said "I WANTED ONE!"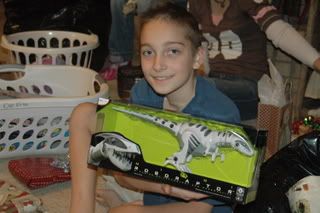 She had got him one TOO!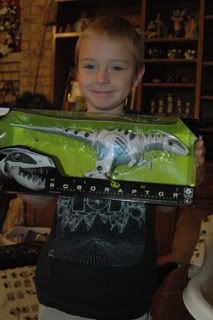 Mike asked for dress shirts and jeans - and the kids obliged.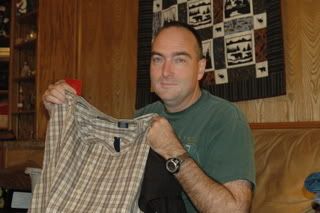 Mike sent me on a scavenger hunt - a LONG one - clues were based around Twas the Night before Christmas. The funny thing is that I found a couple of them in the a.m. when I was cleaning and thought "someone is going to have to work for their gift".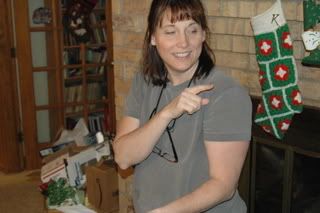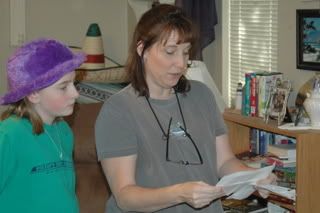 The treasure was all the Sue Gregg cookbooks! YES!
Ah - they consider me a Prayer Warrior.
I'll ALWAYS remember their birthdays now. ::snort::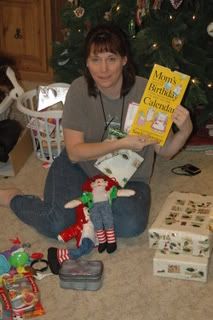 Cy's gift from Grandma - fellow south paw.
Stacia is TERRIFED of the pink aligator from G'ma and G'pa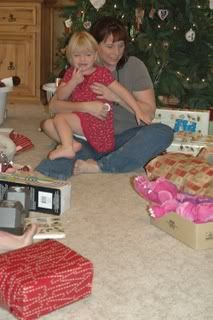 The girls gave really creative gifts. Krista made them all (the hats the boys & Bre are wearing). Here Cy shows his gift from Bre - the older 3 boys and Mike all got warriors with cards about giftings, prayers and such.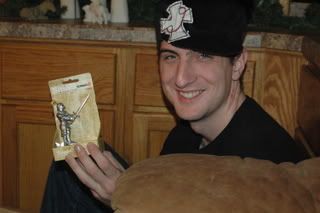 Jared's gift to Stacia...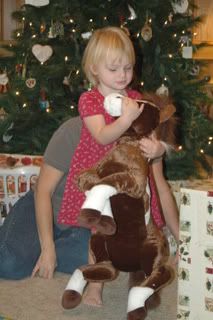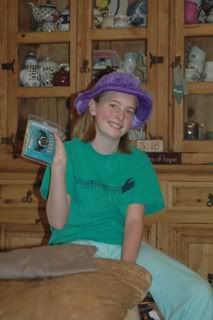 Zander was SO excited for everyone to open the gifts he got them.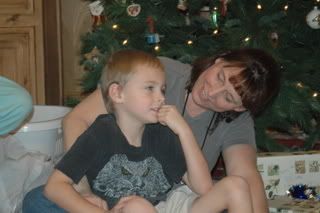 He got Bre a PINK toolbox with whatchamacallits and thingymabobs! ::snort::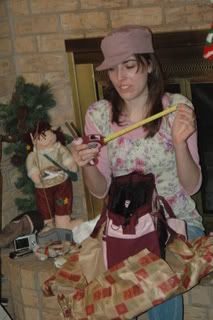 He got Krista a PURPLE elephant that massages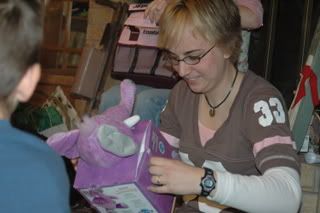 G'ma and G'pa got locks with KEYS because they can't remember combinations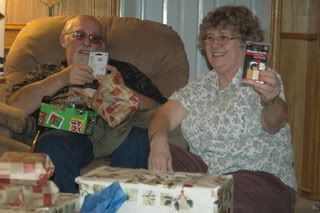 Huh? OH - Jared opened the wrong gift - bound to happen with 13 of us here. LOL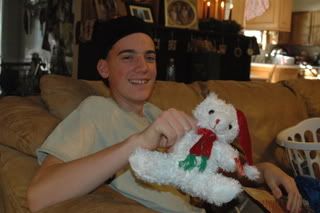 Krista made these adorable dolls for Stacia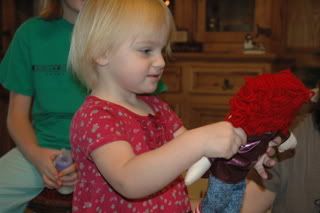 Wait - there are TWO
They must fight!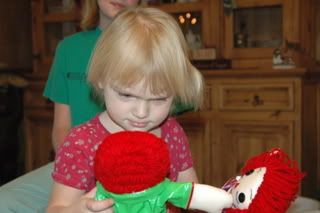 Krista made Mike a shadowbox (Bre made me one - but no photo)
Krsita painted this lighthouse with Isaiah 26:3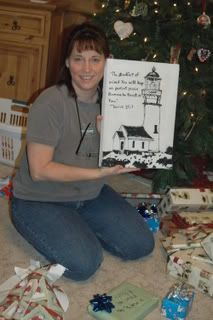 Jared's hat from Krista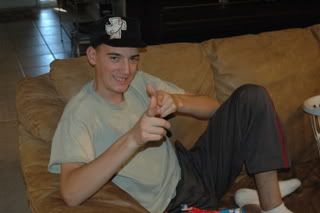 Nolan - can't wait to watch *The Wizard of Has*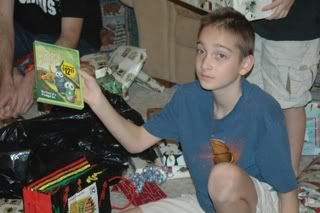 Jamin
We laughed at how many of Jamin's gifts came in Altoid tins. LOL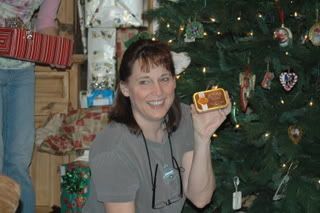 Krista made Zander a step stool with dino on it
We played games.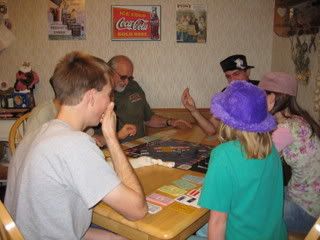 We ate.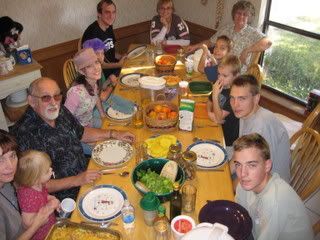 We cleaned and rearranged - but that will be a seperate entry.
A small sampling of the photos - but it gives a taste of Christmas at our home.