The day began with some great thoughts and reflections on Jared and the growth I've seen in his life this year! Wow - 14.
The girls sent text messages (a definite bonus over the tracfone LOL) when they got on the plane to Seattle and again on their way to WA. They called tonight (free after 7 p.m. ::snort::) to talk to Jared on his birthday.
I miss them. How the nest can feel empty and overflowing at the same time is beyond logic. ::snort::
I spent time on produce co-op. We are in the process of beginning a new co-op which will order through United Foods so that took time with phone calls and such.
I took Arielle, Mom and Stacia to visit Heather. Nice new haircuts. This was Stacia's first REAL haircut though "someone" cut it earlier. It was either Stacia, Zander or CECIL - the naughty t-rex!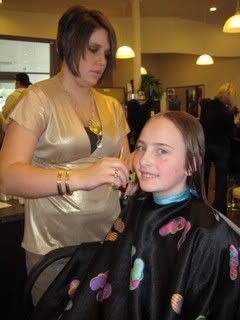 She sat perfectly still and somber through the whole ordeal. ::snort::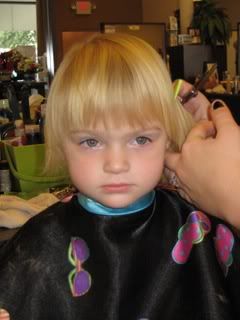 and was rewarded with a lollipop (wow those things have shrunk over the years!)
Pizza and movies, more phase 10, visiting.....tomorrow Mom and Dad fly out.