She Fed Them Trash - and Had a GREAT Time! ::snort::
We had a Five Team Scavenger hunt today and it was a blast! We've done this as a family, but this was the first time we've had FRIENDS accompany us - well you KNOW - other than church Youth Groups.
I'll post the tasks we had to perform at the bottom of this entry. Krista changes them yearly. This year she and Jared worked together on the task list.
We all left with a camera and instructions. We met back at our home by noon. I then fed everyone trash (Pizza, Salad and such). The ladies were GREAT and pitched in and cooked while Mike and I loaded photos to the laptop, set up the projector and the screen. Then we ate and watched the photos each team had taken.....
I debated how to share photos - there are over 100. Here are photos of each team....our first task was to spend no more than $5 and buy something that each of us could wear in each photo. This took the place of team flags, which we have made in the past.
Team Rod or the Hot Rods - This family had the distinction of having our youngest and oldest participant on it. I enjoyed meeting Margie's Mom; she was a wonderful sport.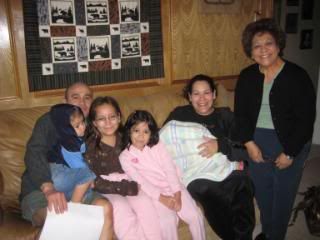 Here they are with their "identifying factor" - socks on the hands/bands

Team S

Thier identifying factor was a wrist bands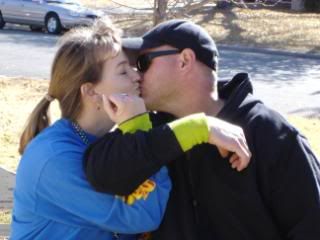 Team Armstrong - We KNEW they were taking this seriously when they showed up in matching shirts, blackened eyes and Doug was overheard telling Emma, "Don't fratenize with the enemy."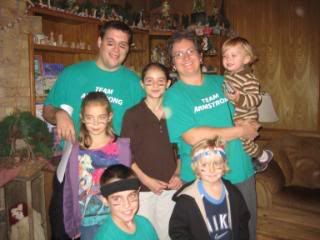 They chose these aprons as their identifying mark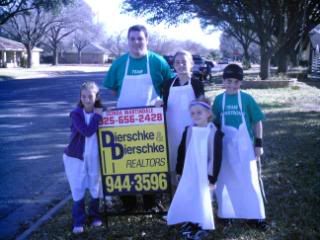 We divided our family into 2 groups as we thought we'd be handicapped getting 12 folks in and out of the van as much as would be required. I'm not sure we'll do it this way next year. As you'll see in the slide show it made the stylized dancing in public a bit challenging having same gender only team members. ::snort::

Macho Men - G Boys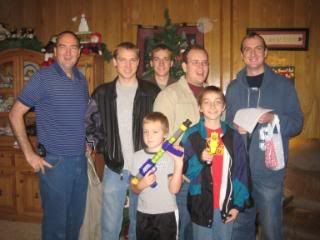 Their ID factor were blue bands....some shots they are around their heads, sometimes arms....



G Girls


We chose boas as our ID



A few shots I want to be sure you don't miss in the slide show....
Team Armstrong's goofy shot - synchronized swimming in the water fountain



The Macho Men MOVED the G GIRLS CAR!!!! THEN took photos of us looking for it. ::snort::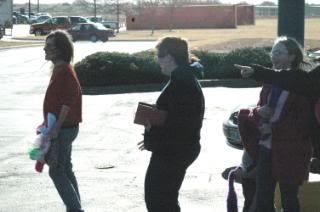 I think all won. Next time, we'll be sure to have a prize for every family....it would have been EASY to think of something for each group: most creative, most organized, biggest cheaters etc. This year we had 2 DQ gift cards - which was good as Team S had 100 points and Team Armstrong had 101 points. We called it a tie.



Thanks to all who came and shared the fun day with our family. Deja and Margie have promised that next year I can send cut-outs of our family and there will be one G participant on each team. We've also talked that we'll do the same thing whereever we are, try for the same day and have a "virtual" Scavenger Hunt. Posting our tasks and photos....Next time I would choose a meal that could be kept warm in the crockpot or Nesco while we played....

Here's the slide show - it's LONG...click through it, rather than waiting for it to play. LOL I didn't realize it would have the whole intro thing.....but I'm not about to do it over again. LOL

The Tasks
1) Every team has a $5 budget to go and pick up items of some type (goodwill, thrift store, army surplus…) that will represent their team. Each member needs to wear an item in some way. (This task is the initial task and the items will need to be worn in the pictures there is no points for this task: )
2) Picture with a horse. (5 Points)
3) Go to the Academy and have one team member get decked out representing your favorite athlete/sport. (5 Points) (Note do not in your excitement forget to take the items off and put them away correctly. LOL)
4) Find 2 pennies with the date of the oldest 2 people in your group on them. (6 Points) (Each penny is worth three points if you can only find one penny.)
5) Geocaching: choose one of the listed coordinates and find one of the caches. (N 31° 19.636 W 100° 30.889 UTM: 14R E 355874 N 3466862) (N 31° 20.139 W 100° 31.017 UTM: 14R E 355684 N 3467795) (N 31° 20.849 W 100° 30.843 UTM: 14R E 355978 N 3469102) (10 Points)
6) Collect 1 picture, 2 paper clips, and 3 rubber bands. These may not be purchased or taken from a team member or theire vehicle. (10 Points)
7) Collect an item that represents the different American Holidays. (2 Points per item)
8) Get a picture with a movie star. (5 Points)
9) Build a human pyramid and the person on top must consume 8 fl oz of liquid while on top. (8 Points)
10) Get a picture with five different realtor signs. (1 Point per sign)
11) Get a picture with ½ of the team in a tree (at least 4 feet up). (5 Points)
12) Get a picture in front of restaurants of five different nationalities. (8 Points)
13) Get a picture with Five Feet of LIVE WILDLIFE (if it is in a cage it does not count). (5 Points)
14) Take two photos; one beautiful and one goofy. (5 Points).
15) Go to Wal Mart and do some type of ball room stylized dancing for 1 minute. You must include one lift (the persons feet has to be off of the ground) and one dip. (12 Points)