Super Sunday
It's been a busy, productive, great day…..and I even have time to blog because the men all went running and are sweaty – so they MUST take showers.
The day began with RE (Religious Education). Mike and I teach the pre-school – 5th grade. We did have a few others besides our own, but they've all pcs'd (moved) so it's just us and our bambinos. Here are a couple of shots from RE.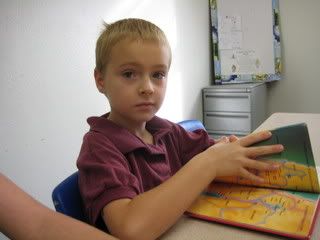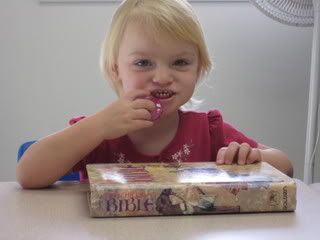 Then on to the Traditional Service. Mike teaches children church in this service. I try to train Stacia. I sort of created a stir in chapel when I took photos of Debbie and her boys lighting the Advent candle. Steve is still deployed and he loved the other photos I've been able to email. These will be dark – but they ARE photos.
Debbie and her boys joined us for lunch.
Mike and I then went to the Gospel Service. Great message, fun singing….time to pray through my school options.
My dryer has been giving me fits. It was purchased when we moved here….it takes 3 hours to dry a load. This means that the thing literally runs 15 – 18 hours a day. Mike disconnected the hose earlier in the week and it began to work. He suspected something amiss in the attic. When we moved in the inspector made the owner change the vent. They'd been venting to the attic and he told him to vent to the outside. Mike found THIS (and more) in the vent shaft…..
Evidently he cut a hole in the roof, and stuffed the material in the venting shaft. Hmmm….disappointing. My dryer works great now.
Many were involved in fixing the dryer….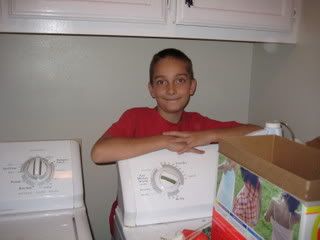 While Mike and Jared focused on the dryer, Josiah studied (dead week coming up), and Jamin and I took everyone else to finish putting in the candle lights on the other ½ of our yard…and to get our nativity back together. Poor Mike was called from the attic to help. We have been talking about the "babe in the shadow of the cross" for years and wanting to portray that somehow. I loved the photo on Linda's blog. Jared asked if he could make us a cross in place of any other hands-on projects for the rest of this unit. I'm telling you it's hard to be a "let's play" mom with "nose to the grindstone students". ::snort:: Here's a photo of our Nativity and I'll post a photo of the whole thing when Jared get's the cross done.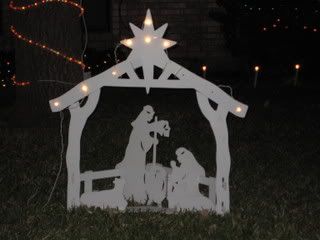 Mike installed two hooks on either side of our entryway for me to hang fripperies on. I didn't have any Christmas things to hang...but I love this sign. It's my favorite. I debated about putting it outside, but the boys think it will be safe with the message it bears.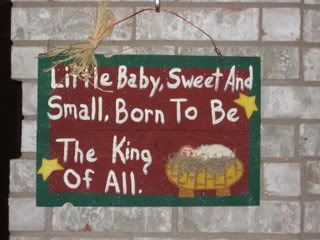 Then we began our Advent traditions.
Mike marked our countdown candle.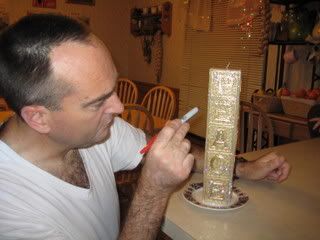 Yeah, this was Arielle's favorite and it's nice – but I'm going to have to find something that will BURN down by the 24th. ::snort:: It is supposed to be a 40 hour candle. I thought with 2 hours a day we could do it – but it burns DOWN THE MIDDLE.
We discussed the first day of our Advent Study.
Josiah got to light the candle because we know he'll be missing most of our family circles.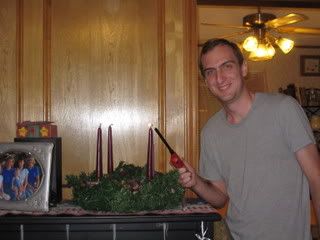 Mike read the first night of Jotham's Journey aloud…. by the time we get to the end of this the GIRLS WILL BE HOME, as will Mom and Dad and Nicholas! I'm smiling big!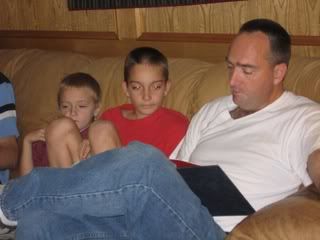 Stacia is busy.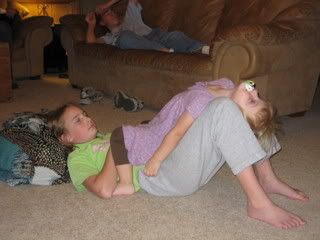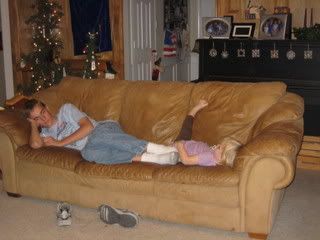 Here she systematically transferred the Little People Nativity to a new location…the antique seed planter.