I'm excited about this for two reasons. 1, I am NOT crafty, and 2 ,we made it. I thought of taking the black ribbon to Veronica (our Catholic RE Coordinator) on Sunday because SHE makes gorgeous bows, but this worked, and 2. It is serving its purpose. Zander walked by the wreath 3 minutes after we hung it and said, "Why are there coins on that wreath?" I explained that Judas betrayed Jesus. He said, "But did God give His Son life again?" - YES! Thanks, Michelle, for sharing this idea.
I am also happy that we were able to use our spike from Valdez, our thorns from our TX walk, our little bag from Mike's hometown....
Below are the symbols used on the wreath and their meaning. I did ad-lib a bit (is anyone surprised?). We talked about each symbol and read the verses as we made the wreath. I'll spare you the ad-lib - you can tell the story in your own words. I KNOW YOU CAN!
Souvenirs of Jesus' Last Week/ Tokens of Jesus' Identity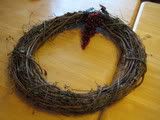 Vine & Branch; Grapes - reminds us of the Lord's Last Supper (and Maundy Thursday). John 15:5, "I am the vine, you are the branches; he who abides in Me and I in him, he bears much fruit, for apart from Me you can do nothing."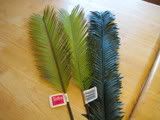 Palm Branch - Triumphant entry to Jerusalem (Palm Sunday). (Yes, ours are exotic fern because we couldn't find palm fronds). Eph 2:14-16 "He Himself is our peace, who made both groups into one and broke down the barrier of the dividing wall...." Michelle used Micah 5:5 "He will be their peace..." I just had to use Ephesians as I'm currently immersed in the book.
Wheat Stalks - Lord's Supper - Bread of Life. John 6:35, "Jesus said to them, I am the bread of life; he who comes to Me will not hunger, and he who believes in Me will never thirst."
30 Pieces of Silver - Judas was paid to betray Jesus. Matt 26:14 - 16, "...What are you willing to give me to betray Him to you?" And they weighed out thirty pieces of silver to him." Michelle used Zechariah 11. The bag held pretty stones we bought in Crescent City, CA - we didn't use the stones but thought the bag would work for a money bag.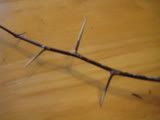 Thorns - Crown of thorns fashioned by the soldiers. Matt. 27:29, "And after twisting together a crown of thorns, they put it on His head, and a reed in His right hand, and they knelt down before Him and mocked Him, saying, "Hail, King of the Jews!"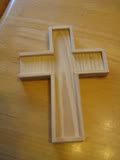 Cross - Crucifixion. John 3:14-15, "As Moses lifted up the serpent in the wilderness, even so must the Son of Man be lifted up; so that whoever believes will in Him have eternal life."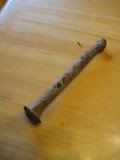 Nails - Crucifixion. Colossians 2:13 - 14, "When you were dead in your transgressions and the uncircumcision of your flesh, He made you alive together with Him, having forgiven us all our transgressions, having canceled out the certificate of debt consisting of decrees against us, which were hostile to us; and He has taken it out of the way, having nailed it to the cross.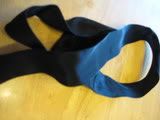 Black Ribbon - Death and Mourning - Good Friday. Luke 23:27, 46, "And following Him was a large crowd of the people, and of women who were mourning and lamenting Him....And Jesus, crying out with a loud voice, said, 'Father into your hands I commit My spirit.' Having said this, He breathed His last."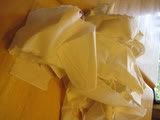 Linen Ribbon - Grave Clothes. I added Matthew 27:59, "And Joseph took the body and wrapped it in a clean linen cloth...." and Michelle had Rev 1:18 - great verse - "I am the Livng One, and I was dead, and behold, I am alive forevermore, and I have the keys of death and of Hades." I bought muslin and tore it.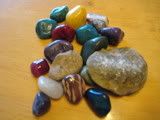 Stone - rolled in front of the tomb and sealed. Rolled AWAY from the tomb on Resurrection Day. Matt. 27:60 - "....and he rolled a large stone against the entrance of the tomb and went away." Matt 28:2 - "...an angel of the Lord descended from heaven and came and rolled away the stone and sat upon it." (preceding were my ad-libs and here is Michelle's verse which we also used). Matt. 21:42-44, "Jesus said to them, Did you never read in the Scriptures, the stone which the builders rejected, this became the chief cornerstone; this came about from the Lord and it is marvelous in our eyes; therefore I say to you, the kingdom of God will be taken away from you and given to a people, producing the fruit of it. And he who falls on this stone will be broken to pieces; but on whomever it falls, it will scatter him like dust."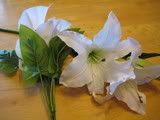 Lily - Dogwood bloom/ Resurrection. Isaiah 35:1-2, "The wilderness and the desert will be glad, and the Arabah will rejoice and blossom; like the crocus it will blossom profusely and rejoice with rejoicing and shouts of joy. The glory of Lebanon will be given to it, the majesty of Carmel and Sharon. They will see the glory of the Lord, the Majesty of our God."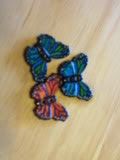 *Butterflies - New Life in Christ. 2 Corinthians 5:16-19, "....Therefore if anyone is in Christ, he is a new creature; the old things passed away; behold, new things have come. Now all these things are from God, who reconciled us to Himself through Christ and gave us the ministry of reconciliation...."
*I know - I know. My wreath can't be a true Lent wreath can it? I know that the season is somber, but when we were shopping, Nolan and I HAD to get the butterflies and the whole time we were making the wreath I debated if we'd use them...but these verses in 2 Corinthians - some of my favorites - kept ringing in my spirit....His suffering bought my metamorphosis - my new life IN Christ, and as I abide, I am like those grapes. This was a great project.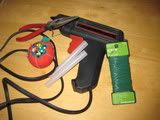 Tools of the trade...Mike had taken the glue gun away from me years ago as I always burned myself and glued things that would be better fixed in other manners. I found the glue gun.
We had a plan - would it come together?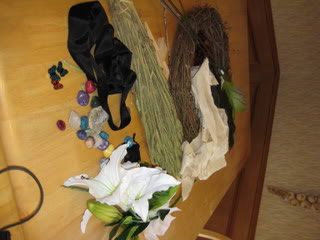 Nolan at work
Our finished wreath