Hard, hard, hard. That is really all that NEEDS to be said, but those who know and love me, KNOW that is NOT all I WILL say. ::snirft:: (snort/sniff)
Josiah and Jamin showed up at the Lake at 9:00 a.m. As we repacked the trailer, Josiah played a card game of some sort with Zander. Zander's Queen "magically" pops up as needed. Hmmm.... ::snort::
Finally, the two boys hooked the trailer up as Mike and I went for a quick walk to the dock.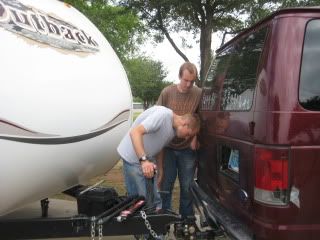 We went back to "Stacia's House" one last time. It shines. TMO picked up the girls' college shipment this a.m.
It was HARD to say goodbye. I thought it would be easier as both of our men have previously moved out of our home....but WOW....there is a difference in knowing they are a mile away and knowing that we will be thousands of miles away. We cried. Then I tried to go back into denial as we'll see them again in Seattle.
JAMIN is the child years ago that began the "chase the visitor's cars down the block thing." Today he chased the trailer down the block. I was crying as I watched and then told Krista to grab the camera....we missed the run, but this is even more poignant. Jamin's the white blob.
Jamin gave me a quarter this a.m. A quarter that a few years ago he threw into a campfire. The next a.m. he picked it up. His fingerprints are scorched on to the quarter. He gave it to me this a.m. as a way to remember to pray for him. Oh, son, we need no reminders....HOWEVER, this quarter touches my need to have something tangible of you adult children...do not be surprised if it shows up as a necklace. ::snirft::
Watching Cy and Jamin hug the younger ones goodbye was heart-rending....and I took no photos.....don't count on many from the airport either.
At lunch I told someone to go ahead of us as there were two of them and 10 of us....Mike said, "There are only 7 of us, De'Etta," and I teared up. This is our new reality.....7 plus KRISTA... I'm so glad she is with us. We had a great day driving together...lots of mommy/daughter time.
The view we saw until I called Mike and said, "Can I go ahead and drive the speed limit and meet you in Big Springs?" ::snort::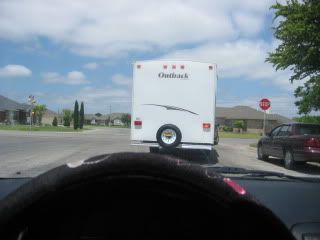 West Texas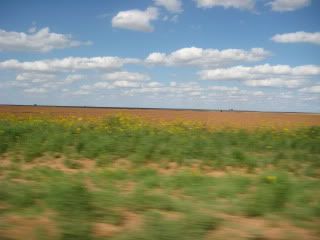 BTW....Krista and I arrived much quicker....traveled the back roads that the GPS sent us on....I think having two vehicles is going to have some advantages...we checked in, can buy groceries etc before the gang arrives.
Cindy requested this photo.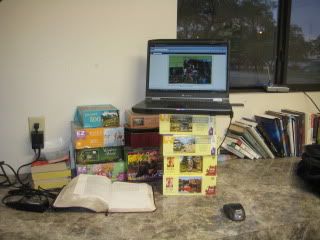 Ah, the family is here - 9:17 p.m. Time to set up camp and get some sort of food into them.

Choosing Joy!
©2009 D.R.G.

~ Coram Deo ~
Living all of life before the face of God...