I left the house at 8:30 Tuesday a.m. to go meet the United Truck. It was fun to have FOOD in the house again - you know "real food". ::snort:: I think things went well - and I learned a lot of ways to make our next order more efficient.

Bible study was last night. We had a LOT of material to get through - and we did it. Shew...next week we'll discuss our homework, learn how to do Word studies, and continue to dive into the book of Ephesians.

We did a teeny bit of couch school yesterday. The older boys continue to rush on at their own pace. Our curriculum only had one week scheduled for Ancient China - and that is this week. I've decided that the younger ones we'll do at least two....there is SO much to learn and do - I hate to spend one week on it. We are going at a pace seperate from the older boys. This has advantages and disadvantages!

Zander decided to make the Great Wall of China.

My day today began bright and early with a trip to the doc. UGH. I came home with Synthroid (I've taken that for years so that wasn't a surprise) and Zocor (now THAT was a bummer). He was appalled that I've had high cholesterol numbers for 3 years and have managed to talk them into letting me continue trying diet and exercise. He says if it was going to work it would have by now. He did think our lifestyle changes HAVE been helpful in terms of who knows what would have happened without them...but he thinks I need meds. He spent quite a long time with me discussing all the ins and outs. He's convinced it's time to start meds. I remain unconvinced. I do have the pills and will be discussing with Mike the big topic of "swallow or flush" the Zocor that is. ::snort::

I got home and wanted to do a bit of research on the internet. We didn't get couch school done. BUT we got lots of table school done. THEN the kids decided to prepare a play. It worked.

Nolan was the creator and director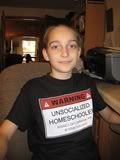 Arielle built sets and acted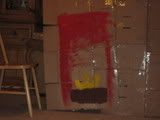 Stacia - we don't know what this had to do with anything. LOL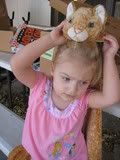 They preformed tonight.