School Daze....
I was up until 1:30 a.m. working on Jamin's Jr. Year Portfolio. (Thanks Debbie for the late night email with the file I needed. Some day we WILL meet in person).
I was up at 5 a.m. working on Jamin's portfolio....then I realized that I have other things that MUST be done today.
PE - was slow coming as I didn't make it to the gym. Jared & I are going to try to make it tonight after United co-op.
THIS is how much Zander likes "all that reading stuff". I thought he was being especially attentive today. I thought we were making progress. ::snort::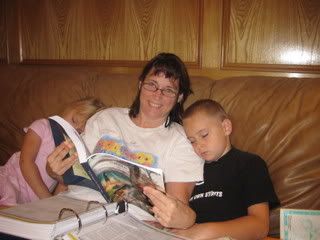 UNTIL I HEARD THE SNORING!!!I think the reading in the Christine Miller books is too much for Zander....maybe we'll skip it. We don't NEED a text for the younger years....*I* just like a text to tie it all together...but boring them to tears is counter-productive. LOL
Nolan, Zander and I decided to exchange "
The Story of King Arthur
" by Howard Pyle for "
King Arthur and the Knights of the Round Table
" by Marcia Williams. I really WANT to read these to the boys but found that they were not able to follow the story line in Howard Pyle quite yet (1st and 3rd/4th). I didn't buy the TOG recommended one and found the picture book at the library. If anyone else has a suggestion for a good rendition of this tale that would be a step up from a picture book but not totally loose two very active boys, leave a comment. I like Mr. Pyles work better than Ms. Williams'....but really if the boys are falling asleep then I'd best look for something a bit easier.
Nolan had speech today. I asked the elementary school librarian and she took me to her section King Arthur. She does a unit every year for 3rd graders. She suggested the Great Illustrated Classics or Classical Starts series.....they have King Arthur based on Pyle....but she thought it hilarious that the silly homeschooler was trying to read an "adult" book to her young ones. I must say the Great Illustrated Classic based on Pyle does look much more doable - more meat than the picture book...but not overwhelming for any of us - maybe Zander will be challenged because all "this reading stuff" is hard on him. LOL
Well - time to busy for United co-op tonight.
©2008 D.R.G.