Wednesday, October 17, 2007
MONARCHS ETC
This is a test! What happened to the text I HAD here...this is my first photo bucket try.
Anyway, Jamin informs me that the Monarch is the TX state insect. I have no clue where he heard that. I had no clue that states HAD insects...birds, flags...yes, but somehow I missed the insect thing.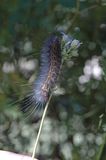 We studied insects last year. We've been doing a unit on Monarchs this year. When we lived in San Antonio they used to ROOST in the trees in our yard on their way south every year...and north too. It was cool. I hoped....we haven't seen anything that spectacular around here...but we did make a spur of the minute run to the park today to visit with friends (Tricia, Ashley and Abby) and to check on butterflies.
Arielle tried to touch one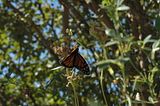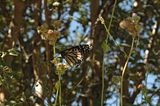 Questions for photo bucket users....I loaded all 5 of these at one time. It WAS quick. BUT why can't I get the text to go up beside the photos? Why are the photos so small? Why do some have blue frames? I'm sure I'll think of more questions. ::snort::

Joyfully Penned by

DeEtta @ Courageous Joy
at 5:02 PM
16 Gracious thoughts