"My voice shalt thou hear in the morning, O LORD; in the morning will I direct [my prayer] unto thee, and will look up." Ps 5:3 KJV
Those who know me, know that there are few things I like better than to unpack a Scripture, examine it, make it mine, put it neatly back together, apply it, and pass it on. The above verse caught my attention today.
Morning - means MORNING - day break (Strong's 1242)
Lord - We're talking about our self- existing Yehovah, He is that He is (Strong's 3068)
Direct my Prayer Unto Thee - Arak (Strong's 1694) - to arrange, set out, state in order as in a legal case!
Will Look Up - tsaphah (6822) - Ready? This word means to SPY, observe closely, to KEEP WATCH (a military term), enlighten with the eyes. Twenty times in the Old Testament this word is translated "Watchman".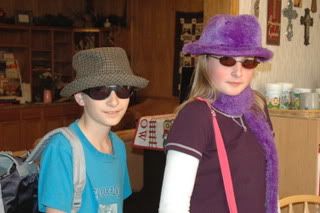 This speaks to me. Watchman - SPY - I've ALWAYS loved mysteries and wanted to be a spy. God is allowing me to be that in the spiritual realm.
A watchman has a responsibility to rise early and present prayer concerns in an intentional, systematic way. There is most likely a place for jello prayers. Being an observant spy for the Lord calls forth more order in my prayer life.
In order for God to "hear my voice at daybreak," I need to BE UP and SPEAKING TO HIM (not blogging, reading email, taking care of PWOC Regional business)....early in the a.m.
I've long held that early hours are the BEST time for me to complete unfinished household tasks, write Bible Study lessons, finish writing projects, get a jump start on the day's activities....a watchman is called to use those hours speaking to our always EXISTENT, Lord.
Two weeks into 2010 and God is starting to speak to me about the
path He and I are on
this year. I'm to be a conscientious, observant, spiritual spy and watchman.
I think the Holman Christian Study Bible translates this closest to the Hebrew...."
At daybreak, Lord, You hear my voice; at daybreak I plead my case to You and watch expectantly."
Still, if we are left with the idea that we nonchalantly pray and then sort of wait to see what may happen...we miss what David is conveying. David is eager, intentional, diligent....He is guarding while he waits to see God at work....
I've really not organized "my musings"....as I have other parts of the blog, but if you'd like to read more musings such as this, click the category by that title in the side bar.
Choosing Joy!
©2010 D.R.G.
~Coram Deo~
Living all of life before the face of God...