Friday: Produce co-op. I bought a case of tangelos just for us this week. Produce co-op always means quick visits with lots of folks....power playdates for the children...family night.
Nolan and Arielle had their first drama class today. They did this last spring and loved it. We've been debating all year about further classes. It's so hard to make the time on Fridays. This is an 8 week class on improv...She gives a great discount for siblings so we end up paying $6 per child per week for an hour of drama with a very top-notch professional. I guess that's good. I'll have to watch and listen to hear if Missoula Theater comes to town this summer.
Jared and I ran to the base gym and got 30 minutes of work-out in during drama class...then back to pick them up.
Jamin got called in to work. I need to go pick up Mike's car at the airport, but Josiah hasn't been home all day. I contemplated walking out to the airport, but Jamin and Jared both said it was too far to walk. I guess we'll do that tonight when Cy gets home "late" - "after mid-night". This is stock show/rodeo week in our town.
I did another 20 minutes of exercise. We made pizza.

Stacia in one of her new dresses - note the pretty hair ornament which she is determined to take out. This must be pay back for me torturing her with headbands and hats when she was too helpless to take them off. ::snort::
Our
Jesus Tree
*KIT*

came today. Unfortunately, I hadn't focused on the fact that it is a kit! YIKES! I will NEVER get all these things cut out and assembled before Easter...and our next Ladies' Project Night at chapel isn't until 14 Mar. I may save this for next year, I think I used all my artsy-fartsy impulses on the wreath. LOL I must have been skimming by the time I got to the next to the last line, "The kit contains all of the felt, patterns and directions needed to make and use the Jesus Tree." ::Snort::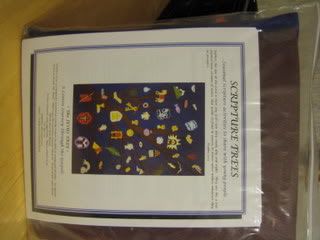 Stacia and Zander had a collision. She's got a big red mark, a bit of swelling, and I suspect it's going to bruise. ugh.
Someone asked where we hung our wreath. I tried the front door, but it was getting smashed with the storm door. I tried the pantry/coat closet door, but the door wouldn't shut with the wreath on it. I have it hung on the french doors that seperate the living room from the library (otherwise known as a family room). I think I like it there anyway as we see it more often during the day.
Mike and the girls are together. They are soon going to be joining with more family. I made some homemade chocolate popcorn and plan to shamelessly eat some while we watch "The Patsy." We like Jerry Lewis.