WE DID IT!
Our very first FULL week of school with a FULL week of our activities. Ah, this isn't totally accurate as we will be adding homeschool basketball to the routine in the next few weeks. LOL
We added speech, United co-op, piano lessons, CAP and House of Faith back into our schedule. We had lots of fun in the evenings. We got a full week of math, sciene, TOG, and such in.....we're off and running.
I have the flu. Yes, the real flu. I doubt pregnancy would cause aches. ::snort:: After produce co-op I ate something and then realized that I really didn't feel well at all and all the symptoms are adding up to possibly a bout of flu. If you were in my home this a.m. - I'm sorry. Seriously, I wasn't feeling quite up to par and didn't handle the produce today - other than green beans. I wondered why it took me the whole sorting time to get green beans cut.....make sure you wash those and that should take care of all my germs.
I tend to plow through illness.....but since Mike was home this afternoon and I was exhausted, I went to bed. I'm still in bed. Mike has them out and about town somewhere..... I was given the very special task of watching Stacia's current favorite baby. LOL
I woke up to this.....Mike always has funner ideas than I. We've been swimming all summer and this is the first time he's been here to participate and he thinks of THIS. Humph! LOL This actually a great way for the kids to get the feel of the new kayak. I doubt the canoes will make their way to the pool any time soon. ::snort::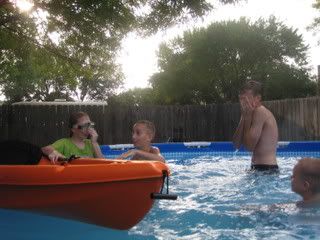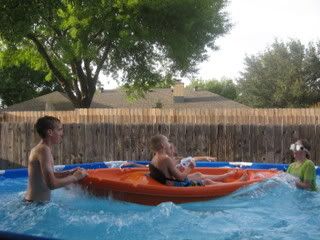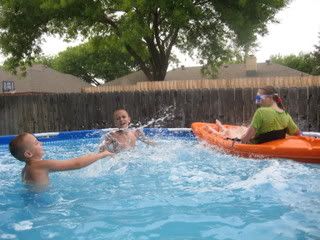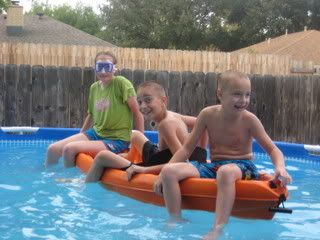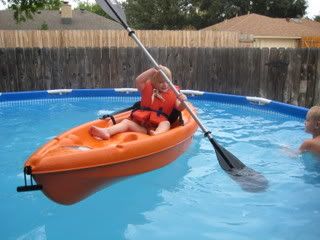 ©2008 D.R.G.