Mike and the kids have been asking me for weeks what I wanted for my birthday. I really had nothing pressing on my mind. I even suggested we wait until March to do gifts.
We've been saving for a new freezer. We gave our big chest freezer away when we moved. We bought a used 14 cu ft freezer when we got here. I discovered I liked an upright freezer, but 14 cu feet is not big enough. I also discovered I like a frost free freezer, as this one isn't. If you store anything in the door, you have to put a 5 gal jug of water in front of it to keep it closed. ::snort:: The freezer I settled on was $749.00. We've been saving....I figured I could get our 1/2 a cow in our current freezer and nothing else. I do have two fridges with freezer compartments, so we were planning to hunker down.
A local friend, Kim, called to tell me that she'd found the same freezer that I had my eye on at Lowe's for $578.00. I began to think that if Mike and the kids just gave me money I'd be able to add other birthday checks to it and be about 1/2 way there. Then Mike suggested we call the company with his backordered Christmas gift and tell them to cancel. He said to put the $ for that on the freezer. I didn't like that idea. I told him it was my tool and I'd be using it most. We realized HE'LL be eating more of the cow stored in the freezer, than I will. ::snort::
We were discussing this when
Kim called back and Sears was having a one day sale on the freezer - 20% off/free delivery. We got it for $599; that's a lot cheaper than $749. It's a top pick for it's size from Consumer Reports. It's 20.3 cu ft; NOT as big as our old chest freezers but I think it will work well. It's frost free. We've been planning on this purchase and working towards it for over a year....I have a couple ready to take the old one. They've just adopted sweet Julia and could use more freezer space. I will not have to do headstands to dig things out of this one; though I may need a step stool to reach the top shelves. ::snort::
Here it is: Mike's Christmas Gift, De'Ettas birthday gift, Our Anniversary gift....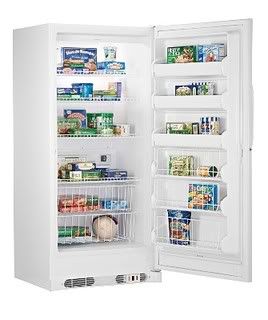 We ran into Kim and Brian at Sears - they bought one too and we had some fun fellowship there in the aisle.
We also went to a Victory Rally for Operation Christmas Child today. Mike was on the program.
Gotta get to bed...church tomorrow.