I've been a bit sad to find that I only brought one teapot and two teacups. WHAT was I thinking? I also didn't bring a lot dishes. I remember that Bobbie Jo suggested I leave everything I didn't need in storage and buy things in Japan. GREAT idea….I plan to buy some teapots and tea cups here.
I NEED a roaster. I've had my eye on the Pampered Chef roaster for years but would never spend the $.
I was in Homac Saturday, looking for shelves and a roaster, and found THIS. I'm not sure what it's meant to cook. I had to figure out how to ask if it could go in the oven, because I couldn't read the box, and the ladies said it would be o.k.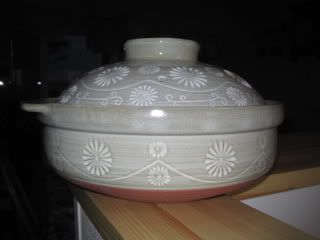 Isn't it great? It's big, worked great and is Japanese….and cheaper than what I was looking at in America. I'm satisfied. There are matching small dishes I can buy to go with it….maybe they're for rice or ramen? I could do a whole post about the great dishes around here.
Kim, I'll be emailing you the box so you and Ryu can tell me if there are any special care instructions I should know about. ::snort::
Choosing Joy!
©2009 D.R.G.
~ Coram Deo ~
Living all of life before the face of God...